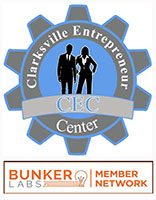 Clarksville, TN – Clarksville Entrepreneur Center (CEC) hosted Bunker Labs for its first entrepreneur training course in Clarksville on Saturday, February 25th, 2017.
The day long training offered veteran and non-veteran attendees the fundamentals of starting and running a business. Bunker Labs Executive Director and Co-founder Blake Hogan, along with Nate Carden, Managing Director, felt especially compelled to provide this business training for the veteran community in the Clarksville area.
More than 39 individuals signed-up for the one day training. The attendees' business interests ranged from dance classes to daycare and from race car driving to agricultural ventures.
Several who attended were undecided as to which business they wanted to start, but learned about effective tools on how to start and stay in business for the long haul.
Carden presented on topics such as which type of business to start, how to locate and market to customers, and managing money as an entrepreneur. He also emphasized the importance of connecting with customers and receiving feedback in order to fine tune a business.
The participants were invited to connect with Bunker Lab via their app called, The Bunker Build and attend The Muster. Bunker Labs will host its next business mixer, The Muster, on Sunday, March 12th at 2:30pm at the City Winery in Nashville, Tennessee as a way to connect other veteran and non-veteran business owners from the region.
"We all feel a special obligation to serve those who have served us within the military forces, "said Richard Garrett, executive director of the Clarksville Entrepreneur Center.
The CEC will continue to train new and existing business owners through its mastermind groups starting March 18th, 2017. Each weekly session will cover a different topic such as business plan development, human resources, financial management/budgeting, and marketing. Registration is on a first come first serve basis with limited number of seats available.
Comcast sponsored the daylong veteran-focused training in an effort to ensure that the area's veterans are able to access support in their entrepreneurial ventures. The day was made possible by the Comcast and in part by the Tennessee Department of Economic and Community Development (TNECD).
"We are excited to be able to provide small business education, tools and resources to existing and future microentperises, especially for our veterans in the Clarksville area through the LiftTN: Microenterprise, Urban Core pilot grant program," said TNECD Chief Operating Officer Ted Townsend.
About the Clarksville Entrepreneur Center and LEAP Organization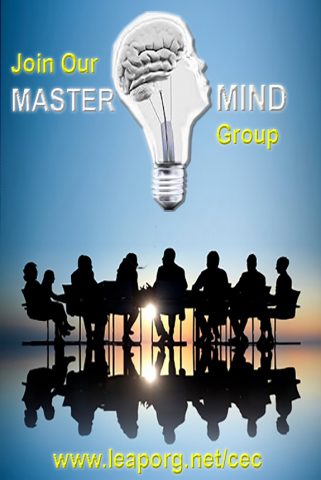 The Clarksville Entrepreneur Center helps veterans, including reservists, and non-veterans start and grow their businesses. To learn more about opportunities for business incubation available contact CEC.
The LEAP Organization is a nonprofit organization with a mission to help youth and individuals attain emotional wellness and economic independence by advancing self-awareness, educational achievement, and entrepreneurial success.
For more information or to register for the entrepreneur mastermind groups visit www.leaporg.net/cec