City of Clarksville honors retiring APSU coach
Clarksville, TN – Clarksville Mayor Kim McMillan called on Clarksvillians to join her in honoring Coach Dave Loos, who retired Monday after 27 years as the men's basketball coach at Austin Peay State University.
"Coach Loos gave his all to APSU over a long and successful career, and he was a great ambassador for the City of Clarksville," Mayor McMillan said. "He was the undisputed Dean of Ohio Valley Conference coaches, and had great success on the court, with more than 500 victories. We wish him a long and happy retirement."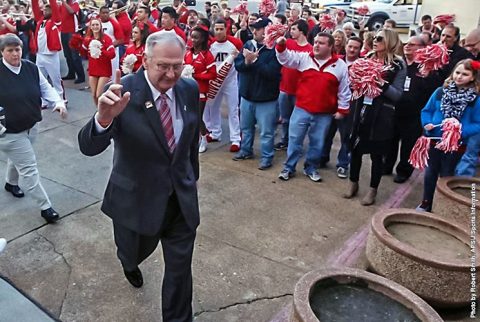 Mayor McMillan also applauded Coach Loos's steady, principled guidance of the entire athletic department during his 16-year tenure as athletic director.
"Dave's teams, his program and the athletic department overall reflected his integrity, work ethic and commitment to the academic success of his student-athletes," she said. "Coach Loos won a lot of games and championships, but he also promoted high graduation rates for APSU's athletes and put scores of young people on the path to successful lives. That's a remarkable legacy that we'll all celebrate for a long, long time!"