APSU Sports Information
Gulf Shores, AL – The Austin Peay State University beach volleyball team split a pair of matches in the final day of the Badger Beach Bash Sunday afternoon including a program first straight set sweep of Huntingdon in match two.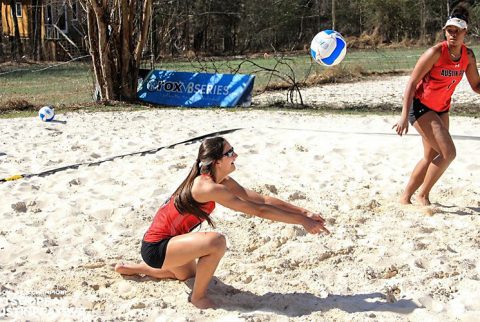 Box Score
Match 1
New Orleans 5, APSU 0
1. Victoria Corcoran/Cara Sander (UNO) def. Ginny Gerig/Kristen Stucker (APSU) 21-16, 21-12
2. Veronica Corcoran/Blessing Dunn (UNO) def. Jenna Panning/Christina White (APSU) 22-20, 21-17
3. Rachel Kuhn/Brooke Frank (UNO) def. MiMi Arrington/Kaitlyn Teeter (APSU) 21-16, 21-13
4. Lauren Levy/Brianna Vega (UNO) def. Allie O'Reilly/Kaylee Taff (APSU) 21-9, 20-22, 15-10
5. Samantha Uline/Karli Baker (UNO) def. April Adams/Ashley Slay (APSU) 21-14, 19-21, 15-11
Match 2
APSU 5, Huntingdon 0
1. Kristen Stucker/Ginny Gerig (APSU) def. Shelby Young/Audrey Hargitt (Huntingdon) 21-16, 21-10
2. Christina White/Jenna Panning (APSU) def. Bria Rochelle/Alexis Creasman (Huntingdon) 21-10, 21-15
3. Kaitlyn Teeter/MiMi Arrington (APSU) def. Alex Hillman/Lexie DeVuyst (Huntingdon) 21-11, 21-8
4. Allie O'Reilly/Kaylee Taff (APSU) def. Kalen Morgan/Gabby Hughes (Huntingdon) 21-14, 21-11
5. Ashley Slay/April Adams (APSU) def. Samm Mamon/Betann Bullard (Huntingdon) 21-10, 21-8
The Govs will host the program's first beach volleyball tournament with the Govs Beach Bash with two matches Friday, March 17th and two matches Saturday, March 18th in the Franklin Beach House.
APSU will face off against Missouri Baptist and Carson-Newman on Friday at 3:00pm and 5:30pm respectively. The event will conclude with Central Arkansas and UT-Martin on Saturday at 11:30am and 6:00pm.