Tennessee Lady Vols (19-11) vs. Dayton Flyers (22-9)
Saturday, March, 18th, 2017 | 3:00pm CT
Louisville, KY | KFC Yum! Center | TV: ESPN2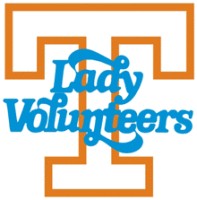 Louisville, KY – As the No. 5 seed in the Oklahoma City Regional, Tennessee is set to face 12th-seeded Dayton in the first round of the NCAA Tournament on Saturday at KFC Yum! Center in Louisville, KY. The Lady Vols are the only program to appear in every tournament, making their 36th appearance in the postseason this year.
The game tips off at 3:00pm CT and will be broadcast on ESPN2 and online through WatchESPN. Visit WatchESPN.com or download the WatchESPN app to view the game on a computer or mobile device. Dave O'Brien (PxP), Doris Burke (Analyst) and Kara Lawson (Analyst) will describe describe the action between the Lady Vols and the Flyers.
Fans can also tune into their local Lady Vol Network station to catch Mickey Dearstone describing the action.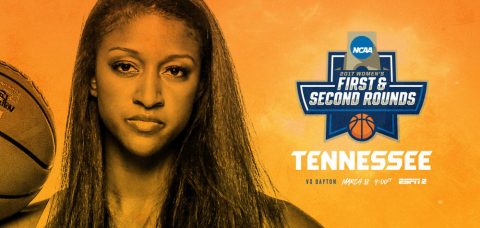 No. 5 Seed Lady Vols begin NCAA Journey
#RV/RV Tennessee (19-11, 10-6 SEC) has been awarded a No. 5 seed in the Oklahoma City Regional of the 64-team 2017 NCAA Division I Women's Basketball Championship.
The Lady Vols will face the No. 12 seed Dayton Flyers (22-9, 13-3 Atlantic 10) in the first round on Saturday, March 18th.
The game is set for 3:00pm CT at the KFC Yum! Center in Louisville, KY.
UT, which hit 20 wins last season in its NCAA opener, will take aim at its 41st-straight 20-win campaign.
No. 4 seed Louisville (27-7) and No. 13 seed Chattanooga (21-10) meet in the other first round contest at 12:30pm CT on Saturday (ESPN2).
The winners will play in the second round on Monday, March 20th. Tip and TV info. is to be determined.
Broadcast Information
Dave O'Brien (PxP), Doris Burke (Analyst) and Kara Lawson (Analyst) will describe the action for the Tennessee-Dayton television broadcast on ESPN2 and the live stream via WatchESPN.
WatchESPN is accessible online at WatchESPN.com, on smartphones and tablets via the WatchESPN app, and streamed on televisions through Amazon Fire TV, Apple TV, Chromecast, Roku, Xbox 360 or Xbox One to fans who receive their video subscriptions from affiliated providers.
Mickey Dearstone will handle the call for the IMG College/Lady Vol Network radio/online broadcast. Airtime is 30 minutes prior to tip-off on network stations.
UT'S NCAA Tourney History
The Lady Vols are making their 36th appearance in the NCAA Women's Basketball Championship, and UT is the only program to appear in all 36 tournaments.
Tennessee is an at-large qualifier for the tourney field, finishing fifth in the Southeastern Conference regular season and bowing out in the second round of the league tourney.
As a No. 5 seed, UT is two spots up from last season's No. 7 position and matches the No. 5 placement in 2009 during the Pat Summitt era.
No. 5 NCAA women's seeds have an all-time record of 88-34 in the first round and are 33-65 in second-round play.
The Lady Vols are 123-27 in NCAA Tournament play, and they rank first in games played (150) and victories (123) in NCAA tourney history.
Tennessee is second in winning percentage at .820 in tourney play.
UT has advanced to 18 NCAA Final Fours and won eight of them (1987, 1989, 1991, 1996, 1997, 1998, 2007, 2008).
Tennessee has finished second in the nation five times and third on five more occasions.
UT has advanced to the NCAA regional round on 34 occasions, posting a 28-6 record in the Sweet 16.
The only season UT did not make the regional level was 2009, when UT lost its opening round contest as a No. 5 seed to No. 12 Ball State in Bowling Green, KY.
UT has made the Elite Eight 28 times, posting an 18-10 record in that round.
The Lady Vols have seen their season ended in the regional championship game in five of the past six years (2011, 2012, 2013, 2015, 2016).
Tennessee's First/Opening Round opponents through the years have included: Jackson State (1982), South Carolina State (1983), Middle Tennessee State (1984), Virginia (1985), Iowa (1986), Tennessee Tech (1987), North Carolina A&T (1994), Florida A&M (1995), Radford (1996), Grambling (1997), Liberty (1998), Appalachian St. (1999), Furman (2000), Austin Peay (2001 & 2010), Georgia State (2002), Alabama State (2003), Colgate (2004), Western Carolina (2005), Army (2006), Drake (2007), Oral Roberts (2008 & 2013), Ball State (2009), Stetson (2011), UT Martin (2012), Northwestern State (2014), Boise State (2015), Green Bay (2016) and Dayton (2017).
All told, UT has played 82 different opponents during all rounds of the NCAA tournament.
UT in the First and Second Rounds
Tennessee is making its 36th appearance in the NCAA First/Second Rounds, and it owns a 56-1 record during those games.
The Lady Vols are 28-1 all-time in the NCAA First Round and 28-0 in the NCAA Second Round.
The only blemish is a first-round loss to Ball State, 71-55, in Bowling Green, KY, on March 22, 2009.
In NCAA First/Second Round play, Tennessee is 44-0 at home, 4-0 away and 8-1 at neutral sites.
The breakdown for that is 22-0 home/0-0 away/6-1 neutral for the first round and 22-0 home/4-0 away/2-0 neutral for the second round.
NCAA Early-Round Road Trips
Tennessee is going on the road for the NCAA First/Second Rounds for the second year in a row and eighth time in 36 NCAA appearances after opening up at home from 2013-15 in Holly Warlick's first three seasons at the helm.
UT's First/Second Round road trips include: Tallahassee, FL, in 2004; Norfolk, VA, in 2006; Pittsburgh, PA, in 2007; West Lafayette, IN, in 2008; Bowling Green, KY, in 2009; Chicago, IL, in 2012; Tempe, AZ, in 2016; and Louisville, KY, in 2017.
Tempe is the farthest from home the Lady Vols' have played in the first or second rounds.
UT is 12-1 when playing away from Knoxville in NCAA First/Second Round games.
History in the Bluegrass
This marks the seventh postseason game UT will play in Kentucky, and UT owns a 2-4 record in the Bluegrass State.
The last time Tennessee played in the Commonwealth, the Lady Vols fell at the KFC Yum! Center in Louisville to Maryland in the 2014 NCAA Sweet 16, 73-62.
UT also has good memories in the venue. The Big Orange women met the Louisville Cardinals for the first-ever regular-season game in the KFC Yum! Center on November 12th, 2010, with the No. 4/4 Lady Vols defeating U of L, 63-50.
UT went to the 1989 NCAA Final Four through the East Regional in Bowling Green, defeating Virgina and Long Beach State.
The Lady Vols fell in the semifinals of the 1985 Mideast Regional in Bowling Green to Ole Miss.
Tennessee lost to Southern California in the 1986 NCAA Final Four in Lexington.
The Big Orange women also lost their only first or second round game in NCAA history to Ball State in Bowling Green during the first round on March 22nd, 2009.
UT vs. the NCAA Tournament Field
Tennessee has played 13 games vs. 12 different teams in the 2017 NCAA Tournament field.
The Lady Vols finished 8-5 vs. those opponents.
Holly Warlick's squad has victories over three of the Power 5 conferences' regular season and/or tournament champions.
UT beat the SEC regular season and tourney champ (South Carolina), the ACC regular season and tourney champ (Notre Dame) and the Pac-12 regular season runner-up and tourney champ (Stanford) as well as the SEC regular season and tourney runner-up (Mississippi State).
UT also beat Sun Belt tourney champion Troy.
Tennessee was 3-2 vs. non-conference NCAA Tournament qualifiers this season, beating Notre Dame, Stanford and Troy while losing to Baylor and Texas.
In SEC play, the Big Orange had a 5-3 record vs. NCAA Tournament teams, defeating South Carolina, Mississippi State, Kentucky, Missouri and LSU while losing to Mississippi State, Texas A&M and Auburn.
The SEC placed eight teams in the tournament, which was the most of any league, followed by seven each from the Atlantic Coast Conference and Pac-12 Conference.
The SEC's teams going dancing in 2017 include Auburn, Kentucky, LSU, Mississippi State, Missouri, South Carolina, Tennessee and Texas A&M.
Lady Vol Stats vs. NCAA Teams in 2017
Tennessee has outscored 2017 NCAA Tournament teams, 72.4 to 69.6, shooting at a higher .442 clip from the field to .406 for foes.
UT is outrebounding NCAA teams 38.7 to 37.1.
The Lady Vols are outshooting their NCAA foes .347 to .292 from behind the arc.
Jaime Nared leads UT in scoring vs. NCAA teams at 18.2 per game, shooting .450 from the field, .390 on threes and .874 on free throws.
Diamond DeShields averages 18.0 ppg, pulls down 6.7 rebounds, and shoots .422 from the field, .350 on threes and .807 on charity tosses.
Mercedes Russell's numbers include 16.1 ppg., 9.5 rpg., .590 from the field and 18 blocked shots.
Jordan Reynolds (6.8 ppg.), Alexa Middleton (5.5), Meme Jackson (4.9) and Schaquilla Nunn (3.8) are UT's next four scorers vs. NCAA foes.
UT'S NCAA Experience
Seven of Tennessee's nine active players possess NCAA Tournament experience, led by Jordan Reynolds with 10 games and followed by Diamond DeShields, Alexa Middleton and Jaime Nared with eight and Mercedes Russell with seven.
UT has an 8-3 record in NCAA tourney play over the last three seasons, making the Elite Eight in 2015 and 2016 and falling in the Sweet 16 in 2014.
Diamond DeShields averaged 17.8 points over four games for North Carolina in 2013-14 and scored 17.0 ppg. in 2015-16 for Tennessee.
DeShields has hit double figures in all eight games of tournament play, tallying a double-double of 24 points and 12 rebounds for UNC vs. Michigan State in 2014 and matching her scoring high with 24 with Tennessee at Arizona State in 2016. She added 20 vs. Syracuse last season as well.
Mercedes Russell has UT's highest totals among active players for points and rebounds in an NCAA game, tallying a double-double of 25 points and 15 rebounds vs. Ohio State last season.
Russell averaged a double-double of 13.0 points and 10.3 rebounds in four NCAA games a year ago.
Schaquilla Nunn is making her second NCAA appearance but first with UT. She played for Winthrop vs. Duke in the 2014 tourney, tallying five points and five boards in 20 minutes.
About the Dayton Flyers
Dayton (22-9) tied for a share of the Atlantic 10 regular season title (13-3) and claimed the A10 Tournament as well after being picked to tie for second during the preseason.
UD earned its seventh NCAA berth and is 5-6 all-time in tourney play, last making the field in 2015.
The Flyers' Shauna Green is in her first season as head coach, returning to UD after one season at Northwestern.
Green has a career record of 51-34 in three seasons, having previously served as the head coach at Loras College in Dubuque, Iowa.
Dayton 6-0 redshirt senior guard Kelley Austria (12.3 ppg., 40 3FGs) is the A-10 Defensive Player of the Year and was named to the All-Defensive Team and All-Atlantic 10 Second Team.
Senior Saicha Grant-Allen, a 6-5 center, was chosen All A-10 Second Team and named to the All-Defensive Team.
Junior Jenna Burdette, a 5-8 guard, also was second-team all-conference, while 5-10 freshman guard Jayla Scaife was named to the all-rookie team.
Kelley scored 20 points, hitting three of her team's six three-pointers in a 70-56 victory over No. 7 seed Duquesne in the Atlantic 10 Tournament title game on March 5.
UT-Dayton Series Notes
Tennessee and Dayton met in the 2010 NCAA Tournament in Knoxville, with the third-ranked Lady Vols prevailing by a 92-64 count in the second round on March 22nd.
In the only other meeting between these schools, third-ranked UT rolled past the Flyers in Knoxville, 66-40, on December 4th, 1986.
UT vs. the Atlantic 10 Conference
Tennessee is 23-0 all-time vs. the current members of the Atlantic 10 Conference.
The last A-10 school UT faced was Davidson, with the #13/15 Lady Vols rolling by the Wildcats, 75-40, in Knoxville on November 28th, 2012.
Holly Warlick is 1-0 vs. Atlantic 10 schools, with that 2012 victory over Davidson ranking as her only one as head coach.
Last Meeting Between These Teams
The No. 1-seeded Lady Volunteers beat eighth-seeded Dayton, 92-64, in the second round of the NCAA Tournament in Knoxville on March 22nd, 2010.
Alicia Manning scored a career-high 17 points and had 10 rebounds and a career-high seven assists to lead Tennessee after fouling out of the opening-round game with two points. Manning was among five Lady Vols who had double-digit scoring against Dayton.
Taber Spani connecting on 7-of-7 shots, including 3-of-3 from long distance to match Manning's 17 points. Alyssia Brewer kicked in 14, while Kelley Cain and Angie Bjorklund added 12 and 11, respectively.
Dayton (25-8), which managed to rally from an 18-point deficit in its 67-66 win over TCU in the first round, was tasked with playing only its second NCAA tournament game in front of about 10,000 orange-clad fans on the court named "The Summitt."
The Flyers, led by Justine Raterman's 17 points, shot .415 from the field but were only 4-of-13 from beyond the arc.
UT, meanwhile, connected on .539 percent from the field, including 6-of-11 marksmanship from the three-point line.
Tennessee, which led 50-30 at the half, grabbed 16 offensive boards and held a 44-37 rebound advantage for the game.