APSU Sports Information

Clarksville, TN – The Austin Peay State University men's tennis team dropped a 7-0 decision to Tennessee Tech Friday afternoon at the APSU Tennis Courts.
Playing down a man down, the Govs had to forfeit the No. 3 doubles match allowing for TTU the advantage.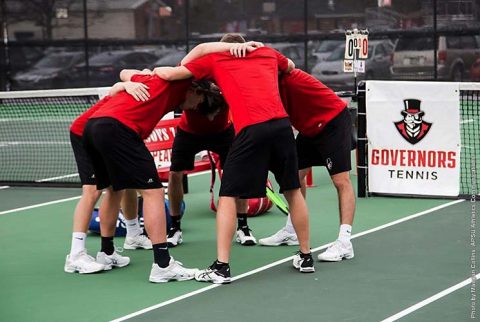 The Golden Eagles won the No. 2 doubles match to secure the point.
TTU went through and swept the singles matches to earn the 7-0 sweep over the Govs.
APSU returns to action Saturday against Jacksonville State at noon. Weather depending the match will either be held outdoors at the APSU Tennis Courts or indoors in the APSU Indoor Tennis Center.
Match Results
Tennessee Tech 7, Austin Peay 0
Singles
1. MENA, Eduardo (TTU) def. Manuel Montenegro (APSU) 7-6 (7-0), 6-4
2. BERNARDES, Marcos (TTU) def. Almantas Ozelis (APSU) 7-5, 2-6, 6-2
3. ESTEBAN, Alberto (TTU) def. Aleh Drobysh (APSU) 6-1, 7-6 (7-1)
4. ALFONZO, Jorge (TTU) def. Chad Woodham (APSU) 6-3, 7-6 (7-4)
5. MILA, Marc (TTU) def. James Mitchell (APSU) 6-1, 6-1
6. TAJES, Carlos (TTU) def. No player (APSU), by forfeit
Doubles
1. Aleh Drobysh/Almantas Ozelis (APSU) vs. MENA, Eduardo/BERNARDES, Marcos (TTU) 3-5, unfinished
2. ESTEBAN, Alberto/NICOLAS, Guillermo (TTU) def. Manuel Montenegro/James Mitchell (APSU) 6-2
3. TAJES, Carlos/ALFONZO, Jorge (TTU) def. No player/No player (APSU), by forfeit
Order of finish: Doubles (3,2,1); Singles (6,3,4,1,2,5)