APSU Sports Information

Gainesville, FL – Small was the group but mighty were the finishes for Austin Peay State University track and field at the Florida Relays, hosted by the University of Florida.
The Govs kicked the event off with a number of solid showings, Friday.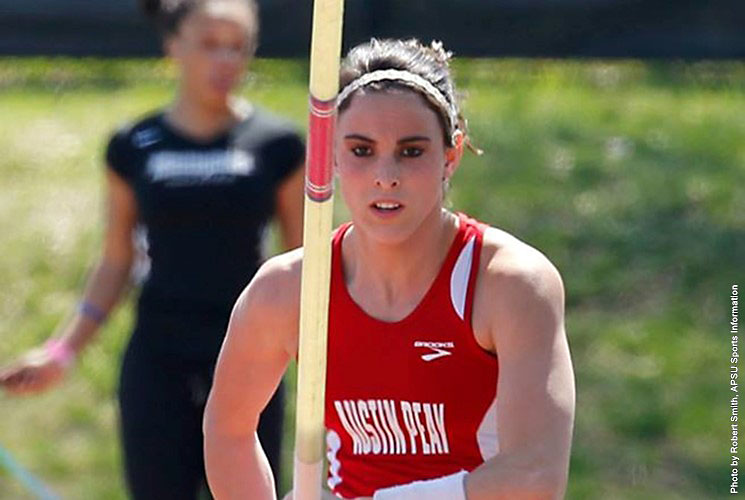 Sophomore
Savannah Amato
's sixth-place, 3.85m (12-7.50) pole vault mark put her right back where she belonged—at the top of the Ohio Valley Conference pole vault standings.
She topped a number of the area's best pole vaulters, including Vanderbilt's Caleigh Lofstead, who entered the weekend ranked ninth in the NCAA East Region.
Based on mark's entering the weekend, Amato could move into the East's top-20 by the time the weekend is finished.
"Savannah battled the wind a bit but looked pretty good all day," said head coach Doug Molnar. "She did a great job finishing sixth in a regional-caliber event. She's ahead of where she was at this time last year and we're excited about that."
In the invitational long jump, Chancis Jones' 5.72m (18-9.25) mark placed her 13th and equaled Kaylnn Pitts for best by a Governor in 2017 and second in the OVC this season. It's her best outdoor attempt in the long jump since last season's OVC Outdoor Championships (5.82m; 19-1.25).
Senior Myiah Johnson's 14.14 mark in the 100m hurdles placed her 49th in a large field at Percy Beard Track. Her season-best mark could place her as high as third on the OVC's season-best lists.
"Chancis had a good mark in the long jump," Molnar said. "Myiah will be in the 13s soon if she takes care of a couple of things, and then she'll be challenging for the school record."
In Cape Girardeau, Missouri, Emmaculate Kiplagat picked up the win in the 10,000m run with 37:13.94 mark, beating out UT Martin's Amelia Martin by less than three seconds for the victory. Sarah-Emily Woodward (40:28.10) finished 10th.
Pitts will conclude the Governors stay in Florida tomorrow afternoon in the invitational triple jump at 3:00pm (CT).