APSU Sports Information

Clarksville, TN – The Austin Peay State University women's tennis team fell 5-2 to UT-Martin Saturday afternoon in an Ohio Valley Conference match at the APSU Tennis Courts.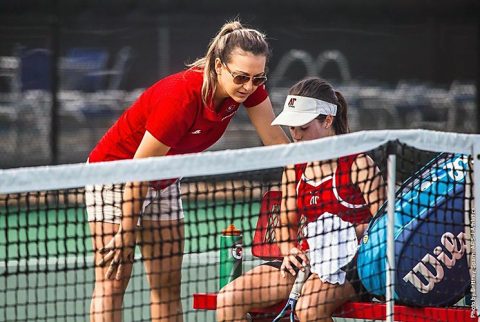 The Skyhawks took the doubles point to take a 1-0 lead in the match. UTM followed up with wins at No. 4 and No. 5 to take a 3-0 lead before
Claudia Yanes Garcia
won her No. 2 singles match 6-3, 6-0 to cut the deficit down to 3-1. Claudia has reeled off eight straight wins for the Govs.
Twin sister Lidia Yanes Garcia kepted her seven-match win streak alive with a 7-6 (4), 6-3 win in her No. 1 singles match to cut the UTM lead down to 3-2. However, the Skyhawks sealed the match with wins at No. 3 and No. 6 to take the 5-2 win.
APSU will will return to action on Friday, April 7th at 2:00pm on the road at SIU Edwardsville.
Match Results
UT Martin 5, Austin Peay 2
Singles
1. Lidia Yanes Garcia (APSU) def. CANDELORO, Sarah (UTM) 7-6 (7-4), 6-3
2. Claudia Yanes Garcia (APSU) def. NAITO, Hitomi (UTM) 6-3, 6-0
3. TARI, Burcu (UTM) def. Helena Kuppig (APSU) 6-3, 6-3
4. JUMAMUKHAMBETOVA, As (UTM) def. Ana Albertson (APSU) 6-4, 6-0
5. PLANTADA CORTES, And (UTM) def. Brittney Covington (APSU) 6-0, 6-4
6. GEUT, Elina (UTM) def. Isabela Jovanovic (APSU) 6-3, 2-6, 10-6
Doubles
1. Helena Kuppig/Ana Albertson (APSU) vs. CANDELORO, Sarah/POTTER, Jemima (UTM) 2-5, unfinished
2. NAITO, Hitomi/JUMAMUKHAMBETOVA, As (UTM) def. Claudia Yanes Garcia/Brittney Covington (APSU) 6-0
3. TARI, Burcu/PLANTADA CORTES, And (UTM) def. Lidia Yanes Garcia/Isabela Jovanovic (APSU) 6-2
Order of finish: Doubles (2,3,1); Singles (4,5,2,1,3,6)