APSU Sports Information
Cape Girardeau, MO – Prior to Sunday's finale, third baseman Alex Robles gathered all of the Govs bats, carried them to the bullpen and threw them to the ground while yelling "Wake Up," it did the trick as Austin Peay State University's baseball team won an 11-7 Ohio Valley Conference contest against Southeast Missouri, Sunday afternoon at Capaha Field.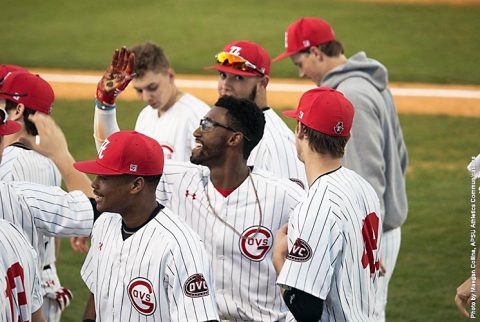 After Robles made his effort to wake the bats, center fielder
Imani Willis
set the tone for the day with his solo home run in the first inning. After Willis lit the fuse, the Govs offense kept plugging away, scoring in each of the first four innings.
Austin Peay (12-15, 5-7 OVC) would load the bases in both the second and third frames as the Southeast Missouri pitching staff had trouble locating the strike zone.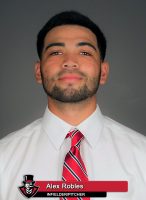 A trio of two-out walks in the second loaded the bases and the Govs would drive in a pair of runs. In the third, a pair of walks helped load the bases and Austin Peay would tack on another pair of runs with back-to-back sacrifice flies.
Southeast Missouri (14-11, 6-6 OVC) nearly matched Austin Peay through those first three innings. The Redhawks scored in both the first and second innings after Govs errors. In the third, left fielder Clayton Evans and first baseman Tristan Gagin each hit solo home runs, keeping SEMO within a run, 5-4 after three innings.
The Governors gained control of the contest in the fourth when they took advantage of a leadoff error that allowed Willis to reach base. Left fielder Cayce Bredlau followed with a single and the duo combined to complete a double steal.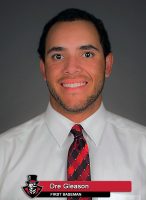 First baseman Dre Gleason then supplied a two-run single, and after designated hitter Garrett Giovannelli singled, right fielder Chase Hamilton drove in a run with a ground out, giving the Govs a 8-4 lead.
That outburst proved enough as Austin Peay starter Brett Newberg (1-0) settled in during the third to retire seven of 10 batters in a stretch that lasted into the fifth inning. The stretch saw him toss a scoreless fourth, backing up the Govs three-spot earlier. After allowing back-to-back singles in the fifth, he would make way for reliever Zach Neff who needed just two pitches to induce an inning-ending double play to end the threat.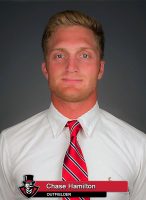 Southeast Missouri kept a last gasp in reserve for the eighth inning when the Govs bullpen ran into trouble. Austin Peay surrendered five walks – two with the bases loaded – to help the Redhawks trim the deficit and put the go-ahead run aboard. However, reliever Levi Primasing got a much-needed strikeout to end the final threat.
Newberg (1-0) would claim the win after allowing four runs (two earned) on eight hits in his 4.1 innings of work. Neff would supply 1.2 innings of relief, allowing a run, before turning the game over to right-hander Ricky Heagarty. After Heagarty ran into trouble, Primasing took over and tossed 2.1 scoreless frames to notch his season's first save.
Left fielder Cayce Bredlau and Robles each had three hits to lead Austin Peay's 12-hit attack. Hamilton would supply a team-best three RBI and was one of seven Govs to end the day with a RBI.
Southeast Missouri starter Robert Beltran (1-3) surrendered four runs on two hits and four walks over two-plus innings and was saddled with the loss. The Redhawks used seven pitchers in the contest, the group combining to walk 10 Austin Peay batters in the contest.
Redhawks catcher Brian Lees led the offense with a 3-for-4, two RBI outing.
Who Governed
Right fielder Chase Hamilton had a productive day despite not being credited with a base hit, ending the day 0-for-4 with a walk and three RBI. He walked and scored in the second inning, hit a sacrifice fly in the third, drove in a run with a ground out in the fourth and beat out a potential double play ball to drive in a run in sixth.
Topping the day off, Hamilton made a spectacular catch to end the eighth inning, snaring a screaming line drive while on a dead run toward the wall.
Silver Linings
Walk It Out
Austin Peay batters showed their patience at the plate, earning a season-high 10 walks from Southeast Missouri pitchers. The double-digit walks were the most by the Govs offense since a 14-walk outing against Eastern Kentucky in 2015.
Doing The Job With A Runner On Third
Austin Peay's hitters were particularly productive with a runner on third base, driving in a run in six of their nine opportunities. Hamilton led that effort with three RBI in his four chances.
SAC Flies For The Lead
Austin Peay built its early lead thanks to a trio of sacrifice flies. Second baseman Max Remy broke a 1-1 tie with a sac fly in the second inning. One inning later, the Govs got back-to-back sacrifice flys from Garrett Giovannelli and Hamilton to build a 5-2 lead.
A Half Dozen Thefts
The Governors also stole a season-high six bases during Sunday's win with center fielder Imani Willis and Giovannelli each nabbing a pair of bases. The six thefts were the most by the Governors since a 2015 contest at Murray State.
Newberg Steady In Start
The Governors turned the ball over to left-hander Brett Newberg for his second career start and first OVC start. The sophomore put forth his longest career outing (4.1 innings) and limited Southeast Missouri to four runs (two earned) en route to his season's first win.
Austin Peay concludes its five-game road trip with a 5:00pm, Tuesday contest against Southern Illinois in Carbondale, Illinois.