Clarksville, TN – Junior Auxiliary of Clarksville will host the 6th annual Cheers for Charity wine tasting from 6:00pm until 10:00pm, Saturday, April 29th, at Sango Event Center.
Cheers for Charity is a blind tasting where teams of two are invited to bring three bottles of the same wine. Upon check-in, two bottles are bagged and numbered for tasting, while the third is set aside to be awarded as part of the Grand Prize. At the end of the evening, the winners of Best Taste will be announced and receive the Grand Prize.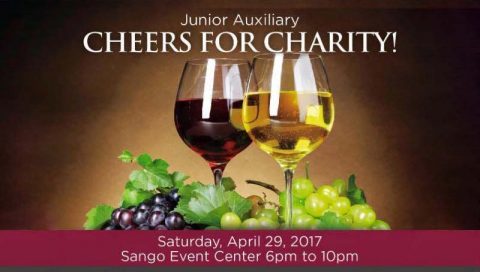 In addition to the blind wine tasting, the event will feature dinner, a silent auction and musical entertainment by Cindy McElroy, Mike Bryant and Ivan Colon.
Tickets are $50.00 per team and can be purchased at the door or online here. Those participating in the wine tasting event must be 21 years of age or older.
The Sango Events Center is located at 3061 Hwy 41a South, Clarksville, TN.
Junior Auxiliary of Clarksville is a women's organization that renders charitable services to children in the Clarksville-Montgomery County community through a variety of service projects. Proceeds from Cheers for Charity go toward these service projects, some of which include providing toys and meals to families at Christmas and distribution of hygiene kits to local schools.
Cheers for Charity is sponsored by Sango Events Center.
For more information, visit www.facebook.com/clarksvillejuniorauxiliary/ or email JAofclarksville@gmail.com.