APSU Sports Information

Edwardsville, IL – The Austin Peay State University women's tennis team fell 5-2 on the road at SIU Edwardsville Friday afternoon in an Ohio Valley Conference match.
SIUE took the doubles point after claiming wins at No.2 and No. 3.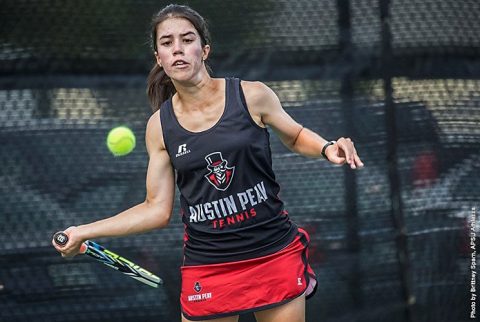 The Cougars went on to take matches at No. 6, No. 4, No. 3 and No. 5 to seal the win.
However, twins Lidia Yanes Garcia and Claudia Yanes Garcia continued their winning ways with Lidia taking her No. 1 singles match 6-3, 5-7, 12-10 and Claudia taking her No. 2 singles match 6-7, 6-4, 10-5.
Claudia is 10-2 on the year at No. 2 while enjoying a nine-match win streak while, Lidia is 11-2 overall and on an eight-match winning streak. Both are 5-0 in OVC play.
The Govs will travel to Eastern Illinois for a match Saturday at 10:00am.
Match Results
SIUE 5, Austin Peay 2
Singles
1. Lidia Yanes Garcia (APSU) def. Lexi Aranda (SIUE) 6-3, 5-7, 12-10
2. Claudia Yanes Garcia (APSU) def. Mia Frogner (SIUE) 6-7, 6-4, 10-5
3. Tiffany Hollebeck (SIUE) def. Helena Kuppig (APSU) 7-5, 6-3
4. Morgan Steffes (SIUE) def. Brittney Covington (APSU) 6-0, 6-0
5. Callaghan Adams (SIUE) def. Ana Albertson (APSU) 2-6, 6-2, 6-2
6. Lara Tupper (SIUE) def. Isabela Jovanovic (APSU), by default
Doubles
1. Mia Frogner/Tiffany Hollebeck (SIUE) vs. Ana Albertson/Helena Kuppig (APSU) unfinished
2. Lexi Aranda/Morgan Steffes (SIUE) def. Brittney Covington/Claudia Yanes Garcia (APSU) 6-2
3. Callaghan Adams/Lara Tupper (SIUE) def. Lidia Yanes Garcia/Isabela Jovanovic (APSU) 6-1
Order of finish: Doubles (3,2,1); Singles (6,4,3,5,1,2)