APSU Sports Information

Murray, KY – The Austin Peay State University women's tennis dropped a 4-3 match on the road at Murray State Wednesday afternoon.
The Racers won the doubles point after taking the No. 2 match 6-2 and the No. 3 match 6-3. The No. 1 match was left unfinished all knotted at four.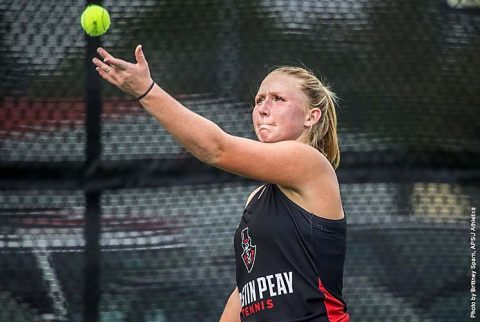 The Govs picked up singles wins from
Lidia Yanes Garcia
at No. 1, 6-1, 7-5,
Claudia Yanes Garcia
at No. 2, 6-2, 6-1, and
Ana Albertson
at No. 5, 7-5, 3-6, 6-4 to keep the match tight.
However, the Murray edged out wins at No. 3, No. 4 and No. 6 to secure the win.
APSU returns home Friday, April 14th at 10:00am against Eastern Kentucky for Senior Day.
Match Results
Murray State 4, Austin Peay 3
Singles
1. Lidia Yanes Garcia (APSU) def. LONCAREVIC, Anja (MUR) 6-1, 7-5
2. Claudia Yanes Garcia (APSU) def. HADZIC, Amina (MUR) 6-2, 6-1
3. CHANG, Claire (MUR) def. Helena Kuppig (APSU) 2-6, 7-5, 6-2
4. LONCAREVIC, Sara (MUR) def. Brittney Covington (APSU) 6-4, 6-4
5. Ana Albertson (APSU) def. SCHIBOL, Alina (MUR) 7-5, 3-6, 6-4
6. MASSON, Jeanne (MUR) def. Isabela Jovanovic (APSU) 7-5, 4-6, 6-2
Doubles
1. CHANG, Claire/SCHIBOL, Alina (MUR) vs. Ana Albertson/Helena Kuppig (APSU) unfinished
2. LONCAREVIC, Anja/HADZIC, Amina (MUR) def. Claudia Yanes Garcia/Brittney Covington (APSU) 6-2
3. MASSON, Jeanne/BJORK, Sara (MUR) def. Isabela Jovanovic/Lidia Yanes Garcia (APSU) 6-3