Clarksville, TN – Austin Peay State University's 10-year strategic plan calls for creating "a vibrant downtown for a traditional college town experience," and in the coming months, that goal will receive a major boost when the institution opens a 13,000-square-foot retail bookstore and coffee shop at the corner of College street and Fourth street.
In January 2016, the University purchased 11 acres along College Street, and work will begin soon on relocating the campus' Ann Ross Bookstore from the Harvill Building, across from the Morgan University Center's plaza, to the Jenkins and Wynne dealership's former main showroom.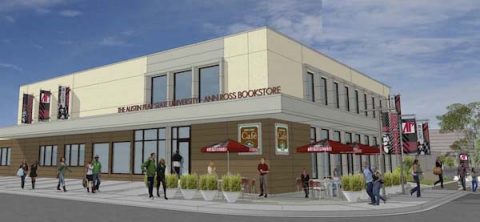 "This aligns perfectly with our strategic plan's mission of supporting Austin Peay students, while also being a partner in the growth of the city of Clarksville," Derek van der Merwe, APSU vice president for advancement, communication and strategic initiatives, said.
Shortly after APSU acquired the property on College Street, University officials said it would help build a stronger bridge between the campus and downtown Clarksville. Mitch Robinson, APSU vice president of finance and administration, said Austin Peay would explore public-private partnerships that support both the University and the surrounding community.
"Whatever this land will allow Austin Peay to do, as far as our growth, that's priority number one," Robinson said at the time. "Number two is what we can do together with people downtown to expand the area and encourage increased development in the downtown district."
The University is partnering with national book retailer Barnes and Noble to operate the campus bookstore. The company, which operates 770 campus bookstores across the country, will provide students with textbooks at the new location, but the Barnes and Noble store will also be open to the public, selling children's books, trade books, best sellers, office supplies and Austin Peay-branded merchandise. The venue will be similar to the Vanderbilt University Barnes and Noble on West End Avenue in Nashville, with a Barnes and Noble Café that will also be open to the public.
"The current bookstore agreement with Follett Higher Educational Group will expire June 30th, 2017," Tammy Silva, manager of APSU's Auxiliary Support Services, said. "I will be working with Follett, Barnes and Noble, and other departments in this transfer process in the upcoming weeks to help ensure a smooth transition in contractors operating our campus bookstore on the Clarksville campus and at the Fort Campbell Education Center."
Barnes and Noble provided an initial design concept for the newly renovated space, but those designs will likely change as the process moves forward. The company also plans to be in the new location by the Fall 2018 semester, but that date could change.
In Tennessee, Barnes and Noble operates several campus bookstores, including retail stores at Vanderbilt, University of Tennessee at Martin, University of Tennessee at Chattanooga and Sewanee: The University of the South.