APSU Sports Information

Clarksville, TN – The Austin Peay State University men's tennis team picked up a big 4-3 win over Eastern Kentucky in an Ohio Valley Conference match Friday afternoon at the APSU Tennis Courts on Senior Day.
APSU won the doubles point when Aleh Drobysh and Almantas Ozelis won their No. 1 match 6-3 followed by a Manuel Montenegro and James Mitchell 6-4 win at No. 2 to clinch the point.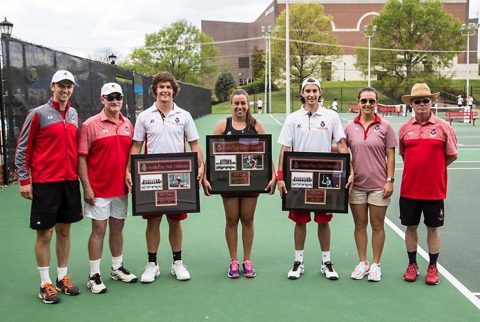 EKU answered with a 2-1 lead after wins at No. 6 and No. 3 singles, but Montenegro evened the match at two with a 4-6, 6-1, 6-2 win in his No. 2 singles match.
Ozelis pulled the Govs within a point of clinching the match when he won his No. 1 singles match 4-6, 6-1, 6-1, and Drobysh clinched the match with a 7-5, 1-6, 6-4 win in his No. 4 singles match. EKU won the final match at No. 5, but the Govs had already earned the win.
APSU honored James Mitchell and Manuel Montenegro for Senior Day.
APSU will await its fate in the OVC Tournament after matches conclude Saturday.
Match Results
Austin Peay 4, Eastern Kentucky University 3
Singles
1. Almantas Ozelis (APSU) def. Ramon van Flymen (EKU) 4-6, 6-1, 6-1
2. Manuel Montenegro (APSU) def. Sebastian Mueller (EKU) 4-6, 6-1, 6-2
3. Jan Kuehling (EKU) def. Alex Kartsonis (APSU) 6-4, 7-5
4. Aleh Drobysh (APSU) def. Parth Aggarwal (EKU) 7-5, 1-6, 6-4
5. Guillem Sanchis (EKU) def. Chad Woodham (APSU) 4-6, 6-3, 6-4
6. Diego Asis (EKU) def. James Mitchell (APSU) 6-2, 6-2
Doubles
1. Aleh Drobysh/Almantas Ozelis (APSU) def. Ramon van Flymen/Sebastian Mueller (EKU) 6-3
2. Manuel Montenegro/James Mitchell (APSU) def. Jan Kuehling/Parth Aggarwal (EKU) 6-4
3. Alex Kartsonis/Chad Woodham (APSU) vs. Guillem Sanchis/Diego Asis (EKU) 4-5, unfinished
Match Notes:
Order of finish: Doubles (1,2); Singles (6,3,2,1,4,5)