Clarksville, TN – On Sunday morning, April 16th, 2017 around 2:28am, Clarksville Police Officers responded to a truck being broken into at Mann Circle and spoke to a witness who gave a detailed description of the suspects.
When Officer Castin Lanham arrived in the area, he spotted two men meeting the description given by the witness near the intersection of Oak Street and Mann Circle. The two men were seen carrying items in their hands.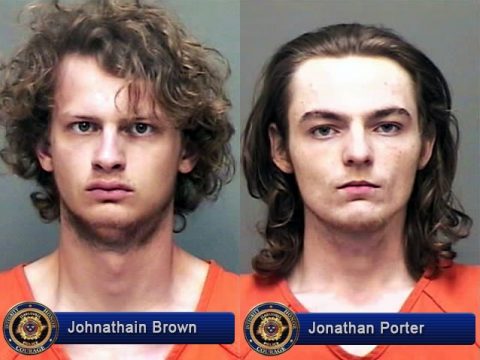 As soon as the men saw the officer, they dropped the items and took off running.
After a lengthy foot pursuit, both men were caught and detained.
The owner of the vehicle identified the over $400.00 worth of items taken from his vehicle; they matched the items which the two men dropped. All of the stolen property was returned the owner. Johnathain Brown, 18 and Jonathan Porter, 19 were taken into custody and booked into the Montgomery County jail.
Johnathain Brown
Name: Johnathain Brown
Gender: M
Race: W
Address: Airport Road, Clarksville, TN
Arresting Officer: Lanham
Charged With: Vehicle Burglary, Evading Arrest
Booked Into: Montgomery County Jail
Bond: $5,000.00
Jonathan Porter
Name: Jonathan Porter
Gender: M
Race: W
Address: Sugarcane Way, Clarksville, TN
Arresting Officer: Lanham
Charged With: Vehicle Burglary, Evading Arrest
Booked Into: Montgomery County Jail
Bond: $5,000.00