Clarksville, TN – Clarksville's Rivers and Spires will begin on Thursday and continue through Saturday evening. Clarksville Police need the public's assistance to ensure the streets are clear of vehicles to facilitate safety and allow the event to be set up without obstruction.
Beginning Thursday morning, April 20th, not later than 6:00am, there will no parking allowed on Public Square, Strawberry Alley, Franklin Street (from First Street to Second Street), and First Street.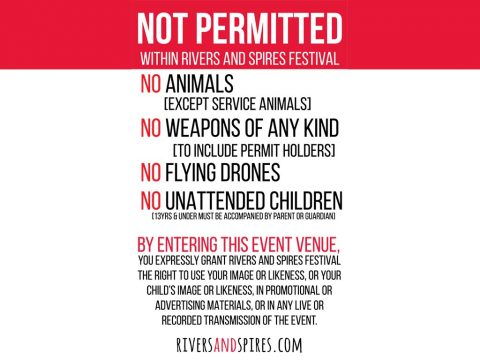 The meters will be bagged Wednesday afternoon at 5:00pm and vehicles must be moved by Thursday at 6:00am. Any vehicle in a meter bagged spot will be subject to being towed.
On Friday morning through Saturday night, April 21st and 22nd, the previously designated no parking areas will continue.
The following streets will be added to the designated no parking allowed: Second Street and Third Street, Franklin Street from Second Street to Hiter Street, and Commerce Street from Second Street through Fifth Street will added to the areas designated as no parking areas.
The new area's meters will be bagged Thursday at 5:00pm and vehicles must be moved by Friday morning at 6:00am. Once again, any vehicle in a meter bagged spot is subject to being towed.
Sections
News
Topics
Clarksville Police, Clarksville Police Department, Clarksville TN, Commerce Street, CPD, Fifth Street, First Street, Franklin Street, Hiter Street, Public Square, Rivers and Spires, Road Closure, Second Street, Strawberry Alley, Third Street