Clarksville, TN – Hilltop Super Market held their 22nd annual Easter Egg Hunt on Saturday, April 15th, 2017. The weather was nice and warm with a cool breeze that kept it from being hot. The event kicked off at 11:00am and the Easter Egg hunt began at 2:00pm.
There were several different activities for everyone to enjoy. There were inflatable bounce houses provided by U Jumpin' Foulks, face painting done by Montgomery Central High School Cheerleaders, cupcake decorating, a duck pond, and other games.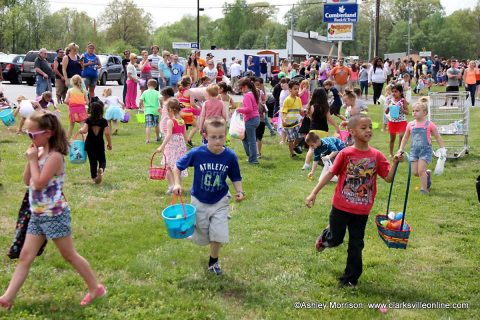 The Palmyra Volunteer Fire Department was giving out free hotdogs, pizza (donated by Central Pizza), chips and drinks. There was plenty of food to go around.
"All the kids and parents seemed to be really happy and having a good time, said Hilltop manager Cody Jackson. "This is one of the biggest egg hunts we've ever had."
The Easter egg hunt was broken down into four groups; up to 4 year olds, 5 to 6 year olds, 7 to 9 year olds and the 10 to 12 year old group.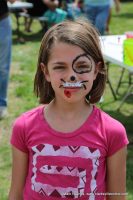 This year, there was over 9,000 Easter eggs filled with candy scattered on the fields. Among those were 400 eggs containing prize tickets. Those tickets could be turned in for prizes, mini grand prizes as well as the grand prizes.
The grand prizes were 18 bicycles. The mini grand prizes were large stuff animals, remote control vehicles, hot wheel nitro chargers, rocket pumper air rocket, Easter baskets and more.
The other prizes included small stuffed animals, hula hoops, plastic swords, sidewalk chalk, match box cars and plenty of others.
This was one of the biggest Easter Egg hunts that Hilltop has had. There were over 900 children that took part in the event as well as over 2,000 parents, friends and others there to watch.
When the Palmyra Volunteer Fire Department engines sounded their horns, the kids ran out into the fields and began gathering up the eggs. It took them no time to clean the area of eggs.
"The weather was nice today and the breeze felt good. All the kids seemed to have a wonderful time," said Sarah Clark. "I think it's great that Hilltop does this for the kids."
An event like this takes a lot of help to pull off. Hilltop wants to thank all of the volunteers that helped out this year. Some of the volunteers are Montgomery Central High School students, Montgomery Central High School Cheerleaders, Palmyra Volunteer Fire Department, Girl Scouts, Abbi Etherton & Layla Christy with the Clarksville Homeschool Co-op Beta Club as well as Hilltop Super Market employees, family and friends.
"Hilltop puts this event on to to give back to our community. This community has helped us to be here for 50 years," Jackson stated. "We love being apart of this community. This is just our a way for us to give back and show our appreciation."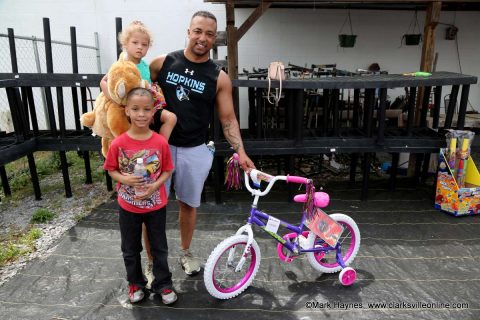 This event would not be possible without the help of local businesses: Lisa Harris Custom Clean, AR Fence Company, Wyatt Body Shop, Movies N More, Satellite Electronics, Jimmy Miller Construction, Fit Shop, Mark Davis Trucking, Cumberland Bank and Trust, Grandmas House Daycare, Central Pizza and MSC Insurance.
This is a great event for the Montgomery County community. For those that did not attend this event, make sure to come out next year and see what all the fuss is about. It just keeps getting bigger and better each year.
Photo Gallery
About Hilltop Supermarket
Hilltop Supermarket is located at 400 Highway 149, Clarksville TN. From Clarksville, you would take Hwy 48/13 south across the river, turn right on highway 149 and Hilltop Supermarket is located on the left at the top of the hill next to Freds. Hilltop serves the grocery needs of the southern Montgomery county area.
Visit their website at: www.hilltopsupermarket.com.