Clarksville, TN – On April 19th, 2017 Clarksville Police conducted a welfare check at an apartment on Fairview Lane and found Allison Tenbarge deceased inside of the apartment. The suspect, Quentin Bird, 21, of Clarksville was captured in Kuttawa, KY.
On Wednesday, April 26th, 2017, around 2:52pm, Quentin Bird returned to Clarksville and was charged with criminal homicide in the death of Allison Tenbarge.
On April, 26, 2017 at 10:00am, he appeared in court in Lyons County, KY to face charges of Burglary (2nd degree) and Tampering with Evidence.
The Burglary charge was amended to Criminal Trespass, which he pled guilty to. The Tampering with Evidence was dismissed.
He waived extradition and was brought back to Clarksville and booked into the Montgomery County Jail.
The Criminal Homicide warrant indicated Allison Tenbarge was 8 months pregnant at the time of her death. Also, that Allison Tenbarge had suffered blunt force trauma and sustained sharp force injuries to her head and body.
Additionally, Allison Tenbarge had returned to Clarksville that day to retrieve property from her ex-boyfriend, Quentin Bird.
Quentin Bird is scheduled to appear in General Sessions on May 3rd, 2017 at 10:30am.
The investigation is ongoing and additional charges may be presented to the June 2017, Montgomery County Grand Jury.
Quentin Bird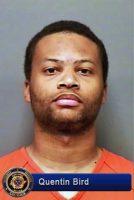 Name: Quentin Bird
Gender: M
Race: B
Address: Fairview Lane, Clarksville, TN
Arresting Officer: Chaney
Charged With: Criminal Homicide, 1st Degree Murder, 2nd Degree Murder
Booked Into: Montgomery County Jail
Bond: $0.00