APSU Sports Information
Martin, TN – Austin Peay State University's baseball starting pitcher Josh Rye was given plenty of run support and went seven innings to lead the Governors to an impressive 19-4 victory in the opening game of its Ohio Valley Conference series against UT Martin, Friday afternoon at Skyhawk Field.
Austin Peay (19-20, 10-11 OVC) was at its most dangerous with two outs in the opener. The Governors scored their first nine runs – and 14 of their 19 – with two outs. The Governors finished the game batting 11-for-19 in two-out situations.
No Governor batter was more dangerous with two outs on the board than left fielder
Malcolm Tipler
, who went 3-for-3. He delivered a two-run, two-out double in the second inning that capped a four-run second inning that gave the Govs the lead for good.
Tipler would find another two-out hit in the fourth inning single that helped keep the inning alive and led to a five-run outburst behind him as the Govs extended their lead to 9-3. Finally, his run-scoring double in the seventh inning capped another four-run frame as APSU widened its lead further, 13-3.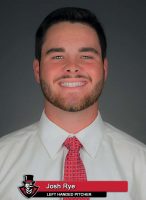 Rye (6-1) benefitted from the Govs second offensive outburst in as many games, going a career-high tying seven innings while holding UT Martin to four runs on eight hits. He was helped mightily by an impressive effort by the APSU defense which turned a school record-tying four double plays.
That Govs defense kept UT Martin (18-22, 7-12 OVC) from stringing together any long rallies. The Skyhawks biggest threat came in the third frame when the first three batters reached base via a hit.
Rye would get an out with a ground ball that turned into a run-scoring fielder's choice then induced another ground ball that the Govs turned into an inning-ending double play, limiting the damage to two runs.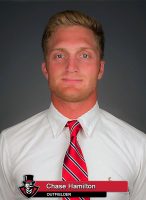 The Skyhawks would get another opportunity in the seventh against Rye when the first two batters reached base safely.
Rye again got a ground ball the defense turned into a pair of outs. While the Skyhawks would get a run, the defensive effort foiled a larger opportunity.
Thirteen different Govs hitters ended the game with a base hit, including all nine starters. Tipler led the effort his 3-for-5, three RBI outing that included a pair of doubles. Right fielder Chase Hamilton and pinch hitter Alex Sala also had home runs in the win.
UTM starter Winston Cannon (4-3) began the day by striking out four of the first seven batters he faced, but could not consistently stymie the Govs offense en route to the loss. He was tagged for 10 runs on nine hits and six walks in his 6.1 innings.
Skyhawks center fielder Creighton Eldridge led the Skyhawks nine-hit outing with a 2-for-4, two RBI performance. His effort included a leadoff home run in the third and a RBI single in the seventh – the first and last Skyhawks runs, respectively.
Who Governed
Rye turned in a quality outing for his season's third OVC victory, helped by a Govs defense that turned a school-record tying four double plays. The Govs starter tied his career-best with seven innings pitched and did not allow a walk – his longest outing this season without allowing a free pass. Rye limited the Skyhawks to four runs in seven innings and needed just 97 pitches in the outing.
Silver Linings
Tying Twin Killings
Austin Peay's defense turned a double play in each of the first three innings and tacked on a fourth in the seventh to help keep the Skyhawks at bay. The four double plays tied a program record set in 2012 at Tennessee. It also gave the Govs 27 double plays turned this season – 18 of those in OVC play.
Two Out Tormentors
The Govs offense saw the leadoff hitter reach base safely just twice against the Skyhawks. However, Austin Peay found its success with two outs, going 11-for-19 at the plate with 14 runs scored. It was the Govs best two-out performance since February 28th against Middle Tennessee (a 21-run outburst). It also was the second consecutive game with 10 or more hits with two outs, following an 11-for-23 outing against Western Kentucky.
Everyone Gets A Hit
An impressive 13 different Govs finished with a hit in the victory. That includes the Govs bench that saw five consecutive hitters reach base in the ninth, four via a hit. Pinch hitter Andrew Flaherty didn't get a base hit, but drove in his first RBI as a Governor on a fielder's choice.
Another Pinch Hit Long Ball
That string of pinch hit base knocks included Alex Sala's three-run home run with two outs. He is the third Govs batter to record a pinch hit home run and APSU pinch hitters have four home runs this season.
Austin Peay and UT Martin will continue their three-game OVC set with an 11:00am, Saturday doubleheader at Skyhawk Field.