APSU Sports Information

Memphis, TN – A school record fell and another Governor likely punched their ticket to the NCAA East Preliminary during Austin Peay State University track and field's appearance at the University of Memphis' Tiger Invitational.
After coming close several times during the course of her senior season, Myiah Johnson finally toppled her 2015 school-record in the 100m hurdles.
In her return to the Bluff City, the Memphis native knocked nearly a tenth of a second off the previous mark with a 13.68 run. That mark should move her up the Ohio Valley Conference best lists and inches her closer to the top-48 mark required for entry into the NCAA East Preliminary.
"For us, this was a big building block on what we've been doing," said head coach Doug Molnar. "Overall, we had a very solid day to be excited about, particularly the great job Myiah Johnson did in the hurdles."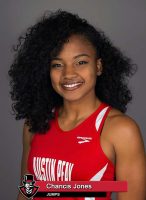 One Governor who may be able to exhale in her quest for Preliminary qualification should be senior Chancis Jones. The Chattanooga native enjoyed a career day with personal-best marks in the triple jump (12.90m; 42-4.00) and long jump (6.08m; 19-11.50), finishing third in the former and fourth in the latter.
With Kaylnn Pitts out for the week with a lower-body injury, Jones equaled her longtime jumps partner's team-season best in the long jump and came within three-quarters of an inch of equaling her program-best triple jump mark. Based on marks entering the weekend, both would put her within the NCAA East region's top-48, with her triple jump mark potentially putting her in the region's top-20.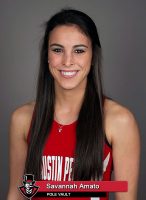 For the second time this season, sophomore Savannah Amato eclipsed the 13-foot mark in the pole vault, placing third with a 4.01m (13-1.75) mark. Two other Govs joined Amato in the top six—sophomore Dascha Hix (3.66m; 12-0.00) was fourth, with junior Gretchen Rosch (3.51m; 11-6.25) in sixth.
"Chancis was great this weekend," Molnar said. "This should really put her in (Regional) contention. Our vaulters just keep getting better every week and you have to like that at this point in the season."
In other news on the track, Emmaculate Kiplagat's win streak was snapped at four, but the sophomore from Kenya still turned in a standout performance—she placed third in the 5000m run with an 18:09.09 run.
Two Governor freshmen tied for sixth in the 100m dash, with Diamond Battle and Garielle Netter each clocking a 12.01 mark—for Battle, the mark represents a personal-best. The duo also teamed with Tymeitha Tolbert and Jala Allen for a fourth-place, 47.53 mark in the 4x100m relay.
Austin Peay also picked up a fourth-place nod in the 4x400m relay, with Allen running the opening leg ahead of Hanna Wise, Amelia Thiesing and Terri Morris.
"Terri is finally getting healthy," Molnar said. "Her anchor in the 4×4 was 64.5; we've still got some work to do on that relay, but that's a good step for us.
"Battle and Netter keep getting better and better; when they put everything together they're going to be scary."
With graduation forthcoming next week, a small group of Govs will represent Austin Peay at the Kentucky Open. The full squad will get back together, May 12th-13th, for the 2017 OVC Outdoor Championships in Oxford, Alabama.
"We'll only take a few people up to Kentucky next week with graduation, but we're in great shape heading into conference in two weeks," Molnar said.