Clarksville, TN – On Thursday, April 13th, 2017 more than 100 Austin Peay State University freshman students were inducted into the Alpha Lambda Delta (ALD) National Honor Society.
"This is the largest crowd I have seen at an induction in over a decade,"Dr. Steven Ryan, professor of languages and literature and ALD faculty advisor, said.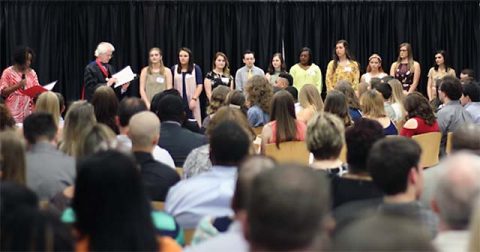 Inductees learned about the history of the national honor society and took an oath "to continue to maintain high scholarship and to use education for the benefit of the community, nation and the world in which we live."
Dr. Loretta Griffy, associate provost for Student Success, spoke to the students and family members, inspiring the new inductees to continuously strive for excellence academically and socially by staying involved in the activities of the ALD.
The APSU Center for Teaching and Learning began working with the honor society in February of this year. Lorneth Peters is the assigned chapter advisor, along with Mark Gray and Patrick Perdew, who oversee the day-to-day activities of ALD.
The honor society was founded in the spring of 1924 at the University of Illinois by Dean Maria Leonard. Today, ALD has more than 275 chapters throughout the United States and has initiated more than one million students. Membership in ALD is open to full-time freshmen students who earn a 3.5 or are in the top 20 percent of their class.
The following students were inducted:
Stephen Alexander, Gina Alfonsetti, Alyssa Baker,Zachery Bellar, RaeAnne Black, Peyton Bone, Leslie Bradley, Destiny Brewington, Brittany Brooks,Justin Burson, Alex Carrizo, Jendaya Cervetti, Matthew Chandler, Matthew Cobasky, Virginia Coleman,Sydney Cooper, Lauren Crews, Megan Cundiff, Katelynn Daniels, Jacob Davila, Lydia Deason, Camey Deason, Michael Demarchi, Sierra Doggett, Chloe Estes, Lauren Felts, Rebekah Finley, Joshua Forbess, John Fussell, Brittney Gardner, Kaitlyn Gidcomb, Morgan Gleckler, Casey Granato, Kendra Gregg, Laurel Hansen, Kaycie Hartwig, Kelly Hatch, Alexandria Hudson, Kiara Jackson, Shamaria Jefferson, Emily Johnson, Kuniko Kincaid, Jake Kolaski, Ana-Carlin Krueger, Michaela Larson, Adriana Madison, Rachel Mann, Katie Markham, Gabrielle Maxwell, Madelyn Mayes, Courtney McCormick, Hayley McDowell, Justin McGregor, Benjamin Meadows, Richard Milner, Luke Muiznieks, Lauren Nash, Macy Osborne, Celena Otey, Jason Pagenkopf, Haley Palmeri, Monica Pan, Parth Patel, Cameron Pena, Franchesca Perry, Josephine Philbrook, Hunter Reese, Emily Rendleman, Brianna Richardson, Gabriela Rios, Briana Robinson, Kassidy Robison, Alison Rogers, Lindsey Ruple, Addison Sanderlin, Karlie Sartain, Cassie Simmons, Bailey Sims, Brooklyn Sisk, Miranda Sommers, Natalie Spears, Jessica Stephens, Tia Stone, Eugene Sueiro, Victoria Taylor, Giulia Terry, Emily Thai, Shelby Thornton, Christopher Trice, Phillip Turza, Amanda Wall, Shamar Wallace, Chelsey Washum, Jaybreon Weatherspoon, Kameron Weaver, Landry Webster, Ella Weiss, Julia West, Allison Williams, Thomas Woelfle, Shannon Yarbrough and Lauren Yates.
Once inducted, these students are lifetime members and eligible for scholarships and numerous leadership opportunities.
To learn more about ALD, please visit http://www.nationalald.org/ or contact the chapter advisor, Lorneth Peters, at 931.221.6084.