School zone signs come down, other changes planned
Clarksville, TN – The City of Clarksville Street Department is making changes to the speed limit, traffic signals and signage and on College Street from Red River Road to Riverside Drive, which includes the area of heavy pedestrian traffic around Austin Peay State University.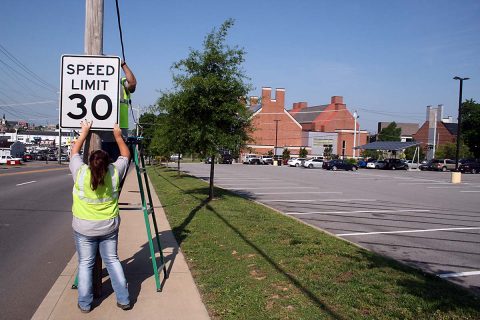 The speed limit has been reduced to 30 mph at all times of the day on the stretch of College Street, and the flashing beacons and signs indicating a 20 mph "School Zone" on College between Ninth street and Fourth street have been removed.
Soon signs with a flashing beacon and a pedestrian symbol will be installed, to warn motorists to be aware of heavy pedestrian traffic.
The speed limit had been 40 mph on College Street, with the 20 mph school zone kicking in from 7:00am to 5:00pm on school days.
"University officials approached us about lowering the speed limit on College Street," City Traffic Engineer Chris Cowan said. "I took a look, and drivers really were not adhering to the 20 mph speed zone. We discussed it with APSU, Clarksville Police and the Tennessee Department of Transportation (TDOT), and then reviewed crash history. It was really a collective decision. We felt that 30 mph was the right call."
Two other measures are being planned for the Downtown section of College Street.
Signals with left-turn arrows will be installed at Ninth Street, to help ease confusion at the intersection caused by left-turning vehicles.
A push-button activated signalized crosswalk aimed at improving safety for APSU-related pedestrians will be added at Third Street by the time classes resume in August. This feature is designed to help accommodate student and staff pedestrian traffic around the APSU campus.