APSU Sports Information
Brentwood, TN – Austin Peay State University senior utility man Alex Robles has become the first player in Ohio Valley Conference history to receive All-OVC honors five times during their careers after he was named First-Team All-OVC as a utility player, Tuesday afternoon.
Robles, of Tucson, Arizona, was the only Governors player named to the two All-OVC squads. It is his fifth All-OVC honor in his four year career.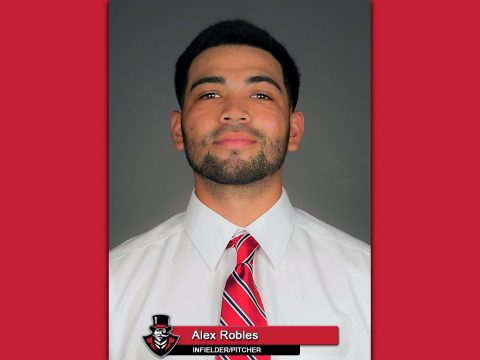 He began his career as a second-team honor as a starting pitcher in 2014.
Robles then became the first player in OVC history to receive two first-team All-OVC honors in the same season as both a starting pitcher and utility man in 2015.
After nabbing the rare double, Robles followed it up by picking up his fourth All-OVC award last season as a starting pitcher. He picked up his record fifth All-OVC honor with this season's first-team trophy as a utility man.
Robles did a little bit of everything for the Governors in 2017, starting at six different positions. Most of his starts (26) came as APSU's third baseman though he did start at all three outfield positions as well as 15 starts at designated hitter and another 10 as the starting pitcher. In addition, he appeared at second base as a substitute once during the season.
Offensively, Robles' .337 batting average during the regular season was his fourth career year of batting .300 or better. He also posted a fourth-straight on-base percentage that topped .400, finishing the regular season with a .410 on-base percentage.
However, Robles also boasted new found power at the plate posting career highs in home runs (10), runs batted in (45) and slugging percentage (.558). Those numbers are all the more remarkable considering Robles had just eight career home runs entering the season and had posted 39 RBI in each of his previous three seasons.
Home runs provided two of Robles' and the Governors most memorable moments in 2017. He hit a walk-off two-run home run against Jacksonville State, March 12th, which helped the Govs complete a sweep of their OVC rival. Then Robles tacked on a walk-off grand slam to cap an eight-run ninth inning in Austin Peay's 14-11 victory against Lipscomb, May 10th.
Then there was Robles turning in the rarest feat in baseball, so rare he is very likely the only player at any level to complete the feat. In the Govs 8-5 victory against UT Martin, April 29th, Robles was the starting pitcher and supplied six innings on the mound and was credited with the win. However, he also went 5-for-5 at the plate and hit for the cycle. That's right he was the winning pitcher in a game he went 5-for-5 at the plate and hit for the cycle – a rare combination of rarities.
Robles also pitched the Govs only shutout of the season, limiting Jacksonville State to three hits in a 4-0 victory, March 11th. By season's end, he became APSU's stopper out of the bullpen and closed the regular season by picking up relief wins in both of Austin Peay's victories at Eastern Illinois, helping the team to secure a berth in this week's OVC tournament.
Robles enters the OVC Baseball Championship needing just six strikeouts to become the first Govs pitcher to record 300 career strikeouts. That's thanks to an impressive 84-strikeout campaign that is just five strikeouts shy of his career best posted last season – set with 27 more innings pitched. It is a bright spot in rough season for Robles on the mound as he has posted just six wins in 21 appearances and 10 starts this season.
Sections
Sports
Topics
Alex Robles, APSU, APSU Athletics, APSU Baseball, APSU Men's Baseball, APSU Sports, Austin Peay State University, Brentwood TN, Eastern Illinois, First Team ALL-OVC, Governors, Govs, Jacksonville State, Lipscomb, Ohio Valley Conference, OVC, OVC Tournament, Tucson AZ, UT-Martin