Clarksville, TN – On Saturday, May 27th, 2017 the Montgomery Central High School 77th Commencement took place at Austin Peay State University's Winfield Dunn Center. The graduation ceremony began at 9:00am.
The 2017 MCHS Class consisted of 241 graduates, 26 graduated with distinction. The inaugural class of the Academy of Plant and Animal graduated 38.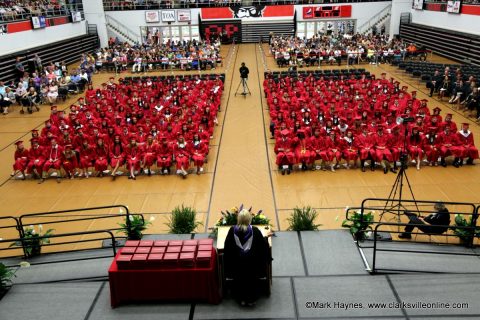 The National Anthem was performed by Jared Capps,Christopher Greenup, Justin Haupt and Joshua Hermantin.
The Salutatorian address was given by Chloe Harp. Mia Garcia-Tore gave the Valedictorian address.
Justice McAfee-Fuller, Keely Sage, Alexis Wall and Madison Wright led the graduating class in the singing of the Alma Mater.
Alma Mater
On our city's southern border,
Reared against the sky.
Proudly stands our Alma Mater,
As the years go by.
Forward every be our watchword,
Conquer and prevail.
Hail to thee, our Alma Mater,
Central High, all Hail.
"I am always so proud of our students. This class is no different. They are service minded. They are family oriented. We are community at our school," said Montgomery Central High School principal Christy Houston.
"I have no doubt that whatever they have decided to do for their next step that they will be successful. I am very proud of my graduates," Houston stated.
Photo Gallery