Clarksville, TN – On Monday, May 29th, 2017, around 11:30pm, Clarksville Police Officer Jennifer Renken responded to a call at the movie theater in the 1800 block of Tiny Town Road, about a man who was irate because the theater's concession stand was closed and they would not sell him popcorn.
He had retrieved an empty popcorn container from the trash can and demanded it be refilled. After the staff refused to fill the container, he threw it at the employee, knocked over a display in the lobby, and then ran off into the theater.
When the officer arrived, the damage and disarray caused by the man was readily evident.
The man was located inside one of the theaters and when the man was approached by Officer Renken, and she attempted to detain him, it quickly turned into a physical altercation and the man started to assault the officer.
He threw a trash can at her, and punched her several times in the face. Officer Renken took the man to the ground, restrained him, at which time he continued to tried to punch and bite her.
When additional officers arrived, the man was taken into custody. The officer suffered minor injuries as a result of the altercation.
Paul West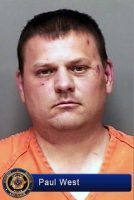 Name: Paul West
Gender: M
Race: W
Address: West Henderson Way, Clarksville, TN
Arresting Officer: Brown, Jr.
Charged With: Disorderly Conduct, Aggravated Assault, Resisting – Stop; Frisk; Halt; Search
Booked Into: Montgomery County Jail
Bond: $22,500.00