APSU Sports Information
Clarksville, TN – An impressive season-opening home tournament highlights Austin Peay State University's 2017 Volleyball Schedule released by head coach Taylor Mott, Thursday.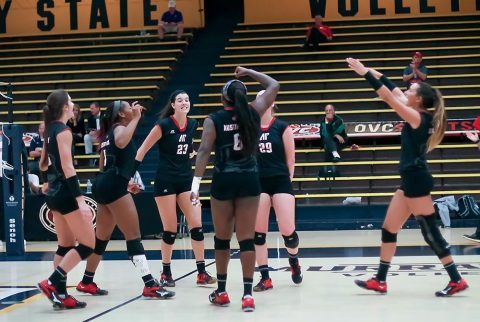 For the first time since 2008, the Governors volleyball team will host an in-season tournament when it presents the
Culvers Governors Challenge
, August 25th-27th.
The 10-match tournament promises to be a can't-miss event with two NCAA tournament participants – Sweet 16 member Missouri and Missouri Valley Conference champion Northern Iowa – among the six-team field. Preview
Those two teams will join host Austin Peay, Marshall, Missouri-Kansas City and Middle Tennessee.
The Culvers Governors Challenge is the first of four tournaments APSU will compete in prior to the start of Ohio Valley Conference play. During Labor Day weekend, Austin Peay will travel to Birmingham, Alabama to face Georgia State, host UAB and Western Illinois in a round-robin event.
The next two weekends will see Mott take her Governors squad to some old stomping grounds. First is a trip to Mott's alma mater when Austin Peay competes in the Ole Miss Classic, September 7th-8th, with matches against host Ole Miss, Mercer and Northwestern State.
The next week, Mott returns to Jacksonville, Florida – her home prior to Austin Peay – where the Govs will compete in the Jacksonville Invitational against South Florida, Presbyterian and host Jacksonville.
After that opening 13-match stretch, Austin Peay jumps into OVC play with a key match against 2017 runner-up SIU Edwardsville in the September 22nd conference home opener. The Governors will host SIUE, Eastern Illinois, Eastern Kentucky, Belmont, Tennessee State, UT Martin, Southeast Missouri and Murray State at home this season.
Austin Peay's road OVC slate will see it travel to Southeast Missouri, UT Martin, Murray State, Tennessee Tech, Jacksonville State, Eastern Illinois, SIUE and Morehead State.
Intertwined in the OVC schedule this season are three road nonconference tests. The Govs will travel to Alabama A&M, September 27th, for a third-straight meeting between the two teams. A matchup against nationally-ranked Western Kentucky awaits, October 10th – the fourth consecutive year the Govs and Hilltoppers have met.
Finally, the annual meeting with Middle Tennessee kicks off the season's final month, November 1st.
Highlights
A Dunn-zen in the friendly confines. Thanks to the season-opening Culvers Governors Challenge, Austin Peay will host 12 home matches in 2017. Of course, home matches against 2016 NCAA tourney participants Missouri (August 26th) and Northern Iowa (August 27th) highlight the schedule. However, don't overlook the bookends of the Govs OVC slate as they open league play against 2016 league runner-up SIUE (September 22nd) and end the home slate against defending league champion Murray State (November 8th).
Can We Join Your Party? Of course, Austin Peay will play 16 matches against OVC teams in 2017, but it also will play nearly a quarter of the Conference USA membership as well. Austin Peay will face C-USA champion Western Kentucky, third-place Marshall as well as UAB and Middle Tennessee next season.
Big SEC Tests Await. When your third match of the season is against the Southeastern Conference co-Champion (Missouri), can your schedule get any tougher? The Govs also face Ole Miss in a Week 3 matchup on the road.
Lions, Tigers and Bears, Oh My! Dorothy would have plenty to say if the Governors nonconference foes' mascots all gathered together. In order, the Governors (an oddity in itself) will face the Kangaroos, Thundering Herd, Tigers, Panthers (twice), Blazers, Leathernecks, Rebels, Bears, Demons, Bulls, Blue Hose, Dolphins, Bulldogs, Hilltoppers and Blue Raiders. Never mind the Cougars, Panthers, Redhawks, Skyhawks, Racers, Colonels, Golden Eagles, Gamecocks, Bruins, Tigers and Eagles which APSU will face in OVC play.