Clarksville, TN – The Eyes of Freedom: Lima Company Memorial is the latest addition to the many events that have become part of Welcome Home Veterans Week in Clarksville, Tennessee September 13th-17th, 2017.
This traveling memorial depicts the fallen Marines and Navy Corpsman of Columbus, OH based Lima Company 3/25, one of the most heavily engaged units of Operation Iraqi Freedom.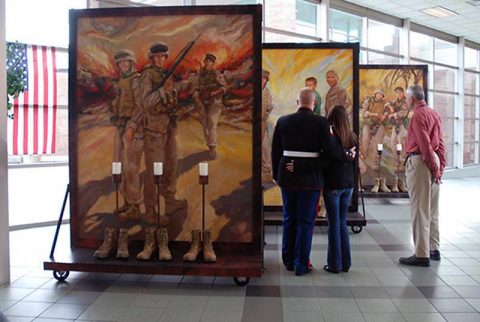 These 23 life-sized portraits have become a powerful traveling veterans tribute to honor the service and sacrifice of all who answer our nation's call – then, now and tomorrow.
These eyes reflect the hundreds of thousands of men and women who have sacrificed defending our freedom.
Behind each portrait, one feels the spirit of the thousands of men and women who have served our country, in every branch of the armed forces, not forgetting the returning veterans now suffering from post traumatic stress.
Like so many people in Ohio who heard of the Lima Company tragedies in 2005, Columbus resident and artist Anita Miller's heart tore for the families of the fallen. Two months later, she awoke in the middle of the night with a vision of the completed memorial standing in the Ohio Statehouse Rotunda. Anita would work for the next two and a half years to make her vision a reality. In May, 2008 the Lima Company Memorial was unveiled in the Statehouse Rotunda, just as her vision foretold.
The exhibit will be located at Beachaven Vineyards & Winery, 1100 Dunlop Lane. It will be open for public display Thursday, September 14th at noon through Sunday, September 17th at 3:00pm.
Also on exhibit at Beachaven during Welcome Home Veterans Week are the American Traveling Tribute Wall and the Field of Honor – Veterans Tribute flag display.
The American Veterans Traveling Tribute (AVTT) Traveling Wall is an 80 percent scale version of the Vietnam Memorial Wall in Washington, DC. Across its 360-foot length, the wall contains the names of every name that is etched on the original monument. At its apex, the memorial is an impressive eight feet tall. The Wall will arrive in Clarksville on Wednesday, September 13th at 3:00pm.
A procession will begin at approximately 3:30pm from Appleton Harley Davidson on US 41-A Bypass and proceed down Madison Street to University Boulevard to College Street out to Beachaven. The Wall will open for public display at noon on Thursday, September 14th, and will be open 24 hours a day until 3:00pm on September 17th. The Wall is being sponsored by the Fort Campbell Historic Society and Sykes Funeral Home.
Field of Honor – Veterans Tribute flag display will also be at Beachaven Vineyards and Winery September 13th-17th. Part of a nationally recognized community program, the Field of Honor will pay tribute to the strength and unity of Americans, and will honor veterans who served our nation to preserve our security and freedoms. Flags may be purchased in honor of veterans or first responders from our the event website, welcomehomeveteranscelebration.com, at healingfield.org/clarksville17/ or by calling 931.647.2331.
Flags may be sponsored for $40.00 and will be tagged with your honoree's information. Purchased flags will be available for pick up after the event. Net proceeds will benefit veteran's causes.
Other activites scheduled during the week include:
A Wreath Laying and Massing of the Colors at the Wall on Friday, September 15th at 3:30pm
The USS LST 325 will dock at McGregor Park September 6th-16th. General admission is $10.00; children 6-17 is $5.00 and WWII veterans and active duty military in uniform are free.
Operation Stand Down – Veterans Festival will be held September 13th-14th, 9:00am-5:00pm at Daymar Institute, 2691 Trenton Road.
A Remembrance Ceremony at First Baptist Church, 435 Madison Street, will be held on September 14th at 7:30pm.
A luncheon with Vietnam POW Bill Robinson will be held in honor of National POW/MIA Remembrance Day, Friday, September 15th at 11:00am at the Wilma Rudolph Event Center, 1190 Hwy. 48. Luncheon tickets are $22.00 and available at welcomehomeveteranscelebration.com.
Bob Hope Tribute to the Troops will be held on Friday, September 15th at 7:30pm (location to be determined.) Tickets are $39.00 and available at welcomehomeveteranscelebration.com.
Welcome Home Parade is Saturday, September 16th in downtown Clarksville at 10:00am. Veterans should register to be in the parade at welcomehomeveteranscelebration.com. Applications are also available for floats and other parade participants.
A Celebration Picnic and Bluegrass at Beachaven will take place on Saturday, September 16th from 12:30pm-3:00pm.
The American Pride Concert is the week's finale on Saturday, September 16th at 7:30pm. Veterans can attend free, but will need a ticket. Others may purchase tickets for $25.00 at welcomehomeveteranscelebration.com.
For details about all activities, please visit welcomehomeveteranscelebration.com.
To volunteer or participate in any of the activities or events, please contact Frances Manzitto by email at or call 931.245.4345.