Nashville Sounds
Nashville, TN – Matt Olson's walk-off three-run homer gave the Nashville Sounds a 6-3 win in game two of Tuesday's doubleheader at First Tennessee Park. The dramatic homer completed a furious comeback and helped the Sounds earn a doubleheader split in front of 7,734 fans.
The Sounds' offense was in a major funk and trailing 3-0 in the bottom of the sixth inning when Joey Wendle cracked a three-run blast off Baby Cakes reliever Javy Guerra to even the game at 3-3. It snapped a 19-inning stretch in which the Sounds failed to score a run.
«Read the rest of this article»
Written by Mark Rankin
U.S. Army Corps of Engineers, Nashville District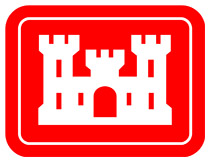 Ashland City, TN – A team of engineering professionals from the U.S. Army Corps of Engineers Nashville District welcomed a group of Science, Technology, Engineering and Math summer camp students today for an overview of Corps careers and tour of the Cheatham Lock and Dam.
Corps subject matter experts who work at the Cheatham Lake, and the Lock and Dam within the fields of science, technology, engineering and math, and natural resources, shared their job experience with 14 students and three teachers attending a STEM summer camp sponsored by the Clement Railroad Hotel Museum in Dickson, Tennessee, during their visit.
«Read the rest of this article»
Natural recreation area envisioned in heart of the Clarksville
Clarksville, TN – Clarksville Mayor Kim McMillan's 2018 budget, approved Monday by the Clarksville City Council, includes $450,000 to acquire a unique tract of land in the heart of Clarksville to be preserved as an Urban Wilderness.
The Clarksville Urban Wilderness would be on rugged land that lies between Madison Street and the Red River off of Tanglewood Drive. It includes dense vegetation, steep ravines, primitive trails, and a stream with a waterfall.
«Read the rest of this article»
Montgomery County Courts Complex construction to close one block of Franklin Street
Clarksville, TN – Because of ongoing construction at the Montgomery County Courts Complex, the block of Franklin Street between Third and Second streets will be closed to traffic all day on Wednesday, June 21st, 2017.
«Read the rest of this article»

Nashville, TN – As the dog days of summer approach, the Tennessee Department of Commerce and Insurance (TDCI) and the United States Postal Service remind Tennessee homeowners that leash laws can be a homeowner's best friend when it comes to preventing costly dog bite insurance claims this year.
For 2016, the Insurance Information Institute and State Farm estimate that dog bites in Tennessee topped more than 300 claims with $9.4 million paid out. Nationwide, dog bites and other dog-related injuries accounted for more than one-third of all homeowners liability claim dollars paid out in 2016, costing in excess of $600 million.
«Read the rest of this article»
Clarksville Area has Third Highest Gas Prices in Tennessee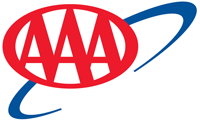 Tampa, FL – Motorists are finding some of the lowest gas prices of the year. Tennessee gas prices should hit their lowest point of 2017 early this week. On Sunday, the state average slipped to $2.05, after falling 3 cents during the past week. The current average price is 9 cents less than this time last year.
The average price for gasoline in Tennessee declined for the 20th consecutive day on Sunday, for a total discount of 6 cents.
«Read the rest of this article»
APSU Sports Information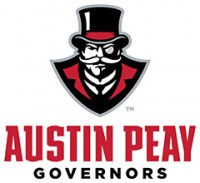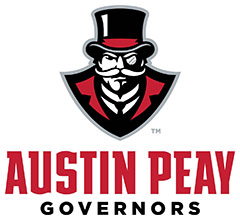 Clarksville, TN – Austin Peay State University Athletics department's Echo Power Engineering Governors Golf Classic fundraiser, presented by Hand Family Companies and the APSU Governors Club, is set for Friday, June 23rd, 2017 at the Clarksville Country Club and Swan Lake Golf Course.
The annual event serves a fundraiser to support student-athletes through scholarships, facility improvements and academic support. Teams can register for the four-player, best-ball scramble for $400.00, with hole sponsorships (which include both course) available for $500.00.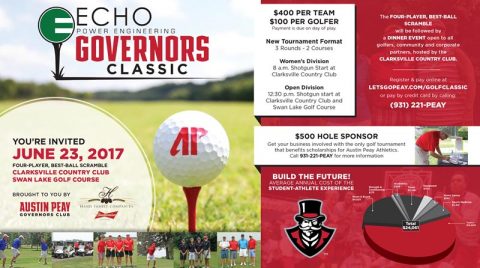 «Read the rest of this article»
Written by Curtis Johnson
Tennessee State Representative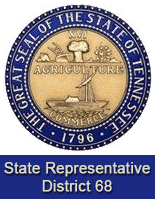 Nashville, TN – The first session of the 110th Tennessee General Assembly adjourned on May 10th, 2017, after passing major legislation that will benefit Tennesseans for generations to come. This is Part 12 of a 12 Part report.
This includes a measure making Tennessee the first state in the nation to offer all adults without a degree tuition-free access to community college; a new law rebuilding a safe and reliable transportation network, while reallocating revenues to maximize taxpayers' return on that investment; and a bill which provides a responsible path to improve access to broadband through investment, deregulation, and education.
Action in the General Assembly also included passage of a balanced budget which takes on no new debt, as well as legislation protecting the elderly, enhancing the state's robust job growth, cracking down on crime, and boosting efforts as the fastest improving state in the nation in K-12 student achievement. Following is a report on key legislation passed this year.
«Read the rest of this article»

Clarksville, TN – Houses were packed to capacity, Broadway World called it "one of the year's most unforgettable performances," and audiences have been begging for more ever since.
Back by popular demand following 2014's limited run upstairs in the Roxy Regional Theatre's theotherspace, now Executive Director Ryan Bowie reprises his tour de force performance of John Cameron Mitchell's groundbreaking award-winning musical "Hedwig and the Angry Inch" in a production completely re-imagined for the mainstage, June 30th – July 15th.
«Read the rest of this article»

Clarksville, TN – In two short months, the heavens—in the words of English poet Lavinia Greenlaw—will throw a "celestial dimmer switch" during the 2017 Total Solar Eclipse, and as excitement builds across the country for this cosmic spectacle, Austin Peay State University is gearing up to host official NASA viewing parties at the campus' Fortera Stadium.
More than 8,000 people are expected to make their way to the football stadium on August 21st, 2017, to safely witness the total solar eclipse.
«Read the rest of this article»