APSU Sports Information

Clarksville, TN – Rodney DeLong, an assistant coach at Georgia Tech last season, has been named the newest Austin Peay State University softball head coach, athletics director Ryan Ivey announced, Wednesday.
Delong served as an assistant coach at Georgia Tech last season after three successful 30-plus win campaigns as the head coach at Cameron University in Lawton, Oklahoma.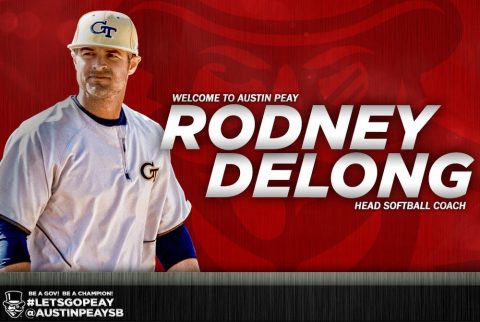 DeLong began his college coaching career at Cameron in 2013 where he led the Aggies softball program to consecutive NCAA Division II Softball Tournament appearances for the first time in program history.
In three seasons coaching at his alma mater, DeLong amassed an impressive 105-60 record, saw 18 Aggies athletes earn all-conference honors, nine named to All-Region teams and two selected as All-Americans.
"We are excited to welcome Coach DeLong and his family to Austin Peay and the Clarksville community," said Ivey. "His vision, passion and enthusiasm are contagious and we believe align well with our departmental philosophy.
"A successful softball program is a key component in our goal of becoming the premier athletics department in the OVC, and we believe Coach DeLong will be able to lead us to sustainable success, on and off of the field. I have had the opportunity to witness Coach DeLong and his teams firsthand, and I know he will fit in well with APSU."
"I'd like to thank Austin Peay President Dr. Alisa White, Associate Athletics Director Cheryl Holt and Athletics Director Ryan Ivey for giving me the opportunity to lead the Austin Peay softball program," said DeLong. "I am excited for the opportunity to build this program. We will establish a championship culture that empowers our young women to be successful on the softball field, in the classroom and in life when they graduate from Austin Peay."
Most recently, DeLong was Georgia Tech's hitting instructor and infielders coach last season and made an immediate impact. During the 2017 season, the Yellow Jackets showed improvement in 11 different offensive categories and finished the season ranked 18th nationally in home runs per game (1.02), nearly double their average from the year prior to DeLong's arrival (0.59 per game in 2016). In addition, Georgia Tech's defense ranked 59th nationally in double plays per game (0.40).
In his final season at Cameron, he led the program to a 33-21 overall record and an 18-14 record in in the Lone Star Conference, good for a third-place conference finish that was the best in program history. Catcher Chelsea DeLong received her second Lone Star Conference Gold Glove Award and was one of five all-conference selections at season's end.
DeLong's 2015 Aggies squad posted a program-record 41 wins, including a program-record 17-game winning streak. Cameron made their second trip to the NCAA Tournament as the No. 4 seed and reached the regional championship game. The Aggies finished 2015 ranked among Division II's top six in batting average (3rd, .352), home runs per game (3rd, 1.63), on-base percentage (6th, .427), runs per game (3rd, 7.14) and slugging percentage (2nd, .594).
That 2015 team included DeLong's first All-America selection. Designated player Paige Diano was named to the National Fastpitch Coaches Association second team as a sophomore. Outfielder Tara Martini, a senior, was a third-team selection by the Division II Collegiate Commissioners Association. In addition, infielder Lauren Renneker was named Lone Star Conference Newcomer of the Year.
In his first season at Cameron, DeLong led the program to its first winning season since 2009 with a 31-21 record in 2014. The Aggies also made their first-ever Division II postseason appearance that season and posted a victory in their maiden showing.
Prior to his collegiate coaching career, DeLong was known as one of the top prep softball coaches in Oklahoma, compiling a 211-64 record in stops at Cache (2008-13) and Lawton MacArthur (2011) High Schools. While at Cache, he led the Bulldogs to the 2013 state championship as well as four regional championships and five district championship.
A collegiate baseball player, DeLong played shortstop in two seasons at Cameron University, starting 79 games and finishing with 54 RBI in those two seasons. Prior to his time with the Aggies, DeLong played two seasons at Northern Oklahoma-Tonkawa and earned second-team all-region honors after batting .390 with 10 home runs and 56 RBI as a sophomore.
DeLong graduated from Cameron University in 2006 with a bachelor's degree in history. He received his Masters of Education in sports administration at East Central University in 2013. Rodney is married to Meghann, and the couple has two children, Ryker and Kaiya.
The DeLong File –
Hometown – Lawton, Oklahoma
High School – MacArthur High School
Collegiate Education –
East Central (Okla.) University (M.Ed., Sports Administration, 2013)
Cameron University (B.A., History, 2006)
Collegiate Coaching Experience –
Georgia Tech, assistant coach, 2016-17
Cameron University, head coach, 2013-16
Collegiate Playing Career (Baseball) –
Cameron University, 2003-05
Northern Oklahoma College, 2003-04
What They Are Saying –
Shelly Hoerner, head coach at Georgia Tech (2014-17): "Rodney is one of the up-and-coming young coaches in our games. He has great knowledge of the game and is very passionate about winning. This is a great opportunity for him to bring a winning mentality and a family atmosphere to Austin Peay softball."
Joanna Hardin, head coach at Virginia: "Rodney has been a hidden gem in the softball world for a while now. He has a great mind for the game, a deep desire to learn and grow, and quiet confidence that will inevitably build a quality softball program at Austin Peay. He is a great fit and I am excited to watch him flourish as a coach, mentor, and leader in Clarksville!"
Richie Bruister, head coach at Texas A&M-Commerce: "I believe Coach DeLong is the next big time coach in Division I. He proved himself as an outstanding head coach in a very tough Lone Star Conference. He knows how to win the right way and I have no doubt he will have Austin Peay at the top very soon"