Clarksville, TN – The associate director of Austin Peay State University's Office of Financial Aid, Johnathan Button, has spent the better part of a decade finding ways for APSU students to finance their education.
Himself a former student worker in the department, Button found his calling at a time when Austin Peay and its rapidly-growing student population needed him the most.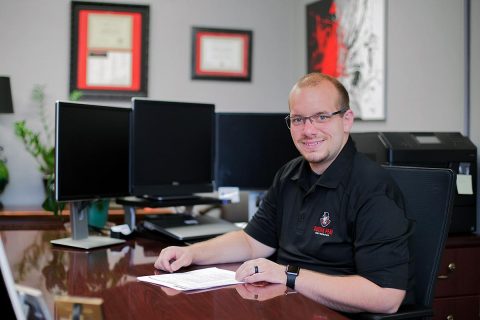 "I always desired to pursue a career in education, but when I was placed in financial aid as a student worker, I discovered my passion," Button said. "By working in the financial aid department, I am afforded endless opportunities to assist others to find the financial support they need to go to college and work with other staff to improve processes to reduce application and documentation burdens on students."
From a student worker to a department leader, Button's calling to help the APSU community has never wavered. It is fitting, then, that when he looked to further his own education, the university Button has done so much for would return the favor. With immense support from co-workers and University faculty, Button recently earned entry into the online Doctor of Education (Ed.D.) program at Johns Hopkins University — considered to be one of the top programs of its kind in the nation.
"I referred to Johns Hopkins as my dream school, but I had this little voice that said, they're the top program in the country, and there would be no way they'd admit me," Button said. "(Johns Hopkins) was a dream I put on the backburner, but I had a lot of people who pushed me to apply and give it a shot, specifically my wife and a coworker who reminded me every week to submit my application."
Button received his bachelor's degree in professional studies from APSU, as well as an education specialist (Ed.S.) from the University. It was the support he received from the University's Martha Dickerson Eriksson College of Education, Button said, that helped him focus his research into something that caught the eye of one of the nation's top online doctorate programs.
"I was shocked by the support I received from the education department," Button said. Button commented, "this support not only came while enrolled in the program; the college selected me as the recipient of the Carlette Jackson Hardin Scholarship for Research in Education this past semester, honoring the service of the Dean of the College of Education, Carlette Jackson Hardin." "I also received significant support during my Ed.S. field study from my committee and other faculty, and the committee members challenged me to excel and eventually consider applying to Johns Hopkins."
Combining his educational and professional interests, Button's research studied the academic success of Tennessee Lottery Scholarship recipients, examining factors that could be used to identify students at risk of losing their scholarships, as well as proactive ways to keep them enrolled at APSU.
"At the time I began my research, I was the scholarship coordinator in the financial aid office and the lottery retention statistics were discouraging; I needed to understand how different segments of the population were affected to potentially develop meaningful intervention tactics," Button said.
This meaningful, real-world research, APSU assistant professor of educational research Dr. John McConnell said, was an example of how Button could pursue his own goals while directly benefitting APSU students.
"Johnathan is simply the type of person to apply the highest level of care and attention to detail to everything that he does," McConnell said. "Not only was his study potentially meaningful to the strategic plan of (growing APSU), but the deliberate and methodical approach he took with his research made his work noteworthy (and attractive to Johns Hopkins.)
"Combined with Johnathan's own talent and drive, it was no surprise that he was able to gain admission into a top-ranked program."
McConnell served as Button's committee chair and student advisor, joined by graduate coordinator Dr. Greg Stewart and associate provost, enrollment management and academic support, Dr. Beverly Boggs.
It was at Button's oral presentation for his Ed.S., Boggs said, that the push came to continue his research toward what would eventually become a doctorate began.
"There are a lot of graduate-level students who complete their master's degree and don't want to deal with more research, but not Johnathan; he has the patience and curiosity to deal with what can be an overload of research," Boggs said. "When his curiosity kicks in, there's no telling what kind of end result you're going to have."
Boggs said Button is a rare breed in higher education, and that she was thrilled to hear he received the opportunity to pursue a doctorate and continue his research.
"I've worked with a lot of folks in higher education over the years, and Johnathan is one of the few I've been truly impressed with," Boggs said. "If I had to classify him, I'd say he has a servant's heart, and that's worth gold in higher ed. You can know the best practices, but you'll never be truly good at this if you don't have a servant's heart."
Button, who begins the three-year doctorate program at Johns Hopkins in the Fall, will remain at APSU throughout the duration of studies.
Because no matter where his studies — or his professional future — take him, Button said his heart will always be with the university that has given him so much.
"I've been afforded numerous opportunities by Austin Peay, earning degrees, teaching classes, working in financial aid — I even met my wife here," Button said. "Austin Peay has provided amazing opportunities to me over the past 11 years, and I strive to give back in substantial ways to my university."