Clarksville, TN – The art in Eric Buechel: The Familiar leaves the viewer with a feeling of observing others and been observed. Buechel' s large, cropped portraits stare eye to eye with gallery goers who are taking in scenes of people enjoying lazy summer afternoons on a boat, in a museum, and tending to bees.
The works do not only just depict every-day situations; the artist also installs the people from his life into the scenes exhibited. Such is the case of Buechel's The Viewing of the Jewish Bride.
A large India ink composition of multiple groups engaging in conversations around a central figurative painting.
The artist says of this award-winning piece, "In this drawing I placed several figures that have never been to the Rijksmuseum. My wife Kathy, her children, daughter-in-law, my two children, myself, and the mayor of Crossville. Only my kids and I have been to this museum."
Eric attended DuCret School of Art in Plainfield, New Jersey. In addition to being influenced by the old masters, he studied with Dr. Furman J. Finck, the Dean of Ducret and an official presidential portrait painter and author. Under Dr. Finck, Eric learned a technique using Wolff's carbon pencil to draw incredibly detailed portraits. After earning a degree in Fine Arts from Broward College, he worked in Manhattan as an illustrator and later, as an art director.
Eric says of his work "I first acquired my skills from my father, Ernest J. Buechel Sr., who was a talented artist and master ship modeler. In 1991, my career path changed. I began to experiment with metals in the electronic field, specifically cathode ray tubes, circuit boards, and base metals. In 1993, my part-time endeavors became the feature story on the front page of the New York Times as a pioneer in the field of electronic recycling. This hobby grew into a full-time career and I soon found myself the head of Advanced Recovery. My company was hired to help with the clean up of the World Trade Center after the 9/11 attack."
Eric Buechel: The Familiar is on view through July 30th, 2017. Located at the corner of Second and Commerce Streets, the Customs House Museum is the second largest general museum in Tennessee.
For information on this or other exhibits, contact Terri Jordan, Exhibits Curator, at
About the Customs House Museum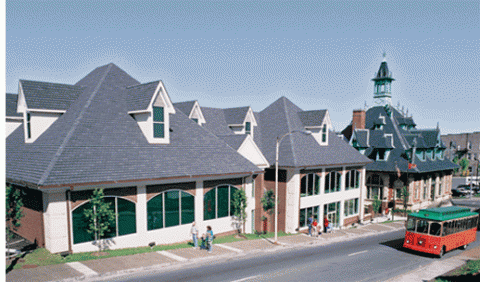 Located in the heart of historic downtown Clarksville, Tennessee, the Customs House Museum and Cultural Center is the State's second largest general museum. The original portion of the building was constructed in 1898 as a U.S. Post Office and Customs House for the flourishing tobacco trade. Incorporating a number of architectural styles, the original structure is one of the most photographed buildings in the region.
With over 35,000 square feet of the region's best hands-on activities and special events…people of all ages agree – the Customs House Museum is well worth the stop!
The Explorer's Gallery is packed with fun, learning and fantasy in Aunt Alice's Attic, McGregor's Market and kitchen, and of course – the Bubble Cave! Finally, get "all aboard" to see our fantastic model trains. Our volunteer engineers "ride the rails" every Sunday afternoon from 1:00pm to 4:00pm.
Regular museum hours are 10:00am to 5:00pm Tuesday through Saturday, and 1:00pm to 5:00pm on Sundays. Adult admission is $7.00, Senior Citizens and College ID $5.00, Ages 6 to 18 $3.00, and under six years and Museum members are free.
The Customs House Museum is located at 200 South Second Street. For more information, call 931.648.5780 or visit their website at www.customshousemuseum.org