Nashville, TN – Nashville Zoo is proud to announce the introduction of Southern white rhinoceros to our animal family. Four young females are now roaming in the Zoo's former elephant exhibit.
"This is the first time we are able to bring rhinos to Nashville," said Zoo President Rick Schwartz. "We had to make several modifications to the former elephant habitat and barn in order to properly care for rhinos. The end result is exceptional and we can't wait to show it to our guests."
The four captive born white rhinos came from a reserve in South Africa and are slowly adjusting to the new sights, sounds, and smells that come with their new home here in Nashville.
Keepers are monitoring the rhinos until they become more comfortable in their outdoor habitat. Because the young rhinos are still a little nervous, there is no guarantee that they will be out on any certain day or time, but the best chance to see them is before noon.
"All five rhino species are currently in the midst of a poaching epidemic like never before. There is a very real concern that they will become extinct in the wild within our lifetime," says Jason Faessler, Rhino Keeper.
"We hope introducing the public to these magnificent creatures will lead to more awareness of habitat loss and illegal animal trade, as well as empower people to help protect our wild places. Aside from being animal ambassadors for their species, Nashville's rhinos will also contribute to the valuable research used in a number of conservation programs across the world," Faessler stated.
While the Southern white rhino (Ceratotherium simum) is the least endangered of the living rhino species with 21,077 remaining in the wild, they are listed as near threatened due to habitat loss and illegal poaching. In South Africa alone, poachers kill three or more rhinos per day to feed the demand for horn on the black market.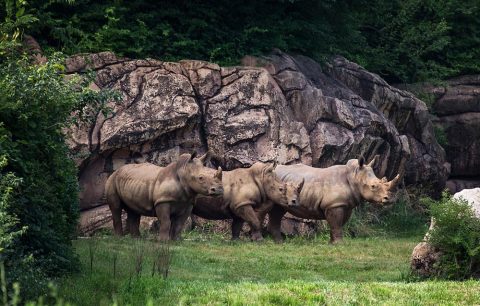 Nashville Zoo brings local awareness of the critical status of all five rhino species during its annual conservation concert, Rockin' for Rhinos, and also supports the International Rhino Foundation through financial contributions.
The Southern white rhino is the largest species of rhino. It has a wide mouth used for grazing and is the most social of all the rhino species living in family groups as opposed to being solitary. White rhinos can live up to 50 years or more, with males tipping the scale at nearly 6,000 pounds. Females are considerably smaller, but can still weigh in at an impressive 4,000 pounds. At close to six feet tall, white rhinos can run as fast as 35 miles per hour and are surprisingly quick and nimble for their size.
Nashville Zoo's African Savannah exhibit was originally funded by the Cal Turner Foundation. The addition of Southern white rhinos and exhibit renovations were made possible by generous support and funding from Kathryn and David Brown, Patricia and Rodes Hart, the Andrea Waitt Carlton Family Foundation, Katie and Kevin Crumbo, Babs and Bill Freeman, Julie and George Stadler and a grant through the National Fish and Wildlife Foundation.
About Nashville Zoo
Nashville Zoo is a nonprofit organization and an accredited member of the Association of Zoos and Aquariums, assuring the highest standards of animal care and husbandry. The Zoo is actively engaged in conservation research, habitat protection, breeding programs and education initiatives around the globe as well as in our own backyard.
Celebrating 20 years at Grassmere, the Zoo attracts more than 890,000 visitors annually and is considered one of the top attractions in Nashville. Nashville Zoo is located at 3777 Nolensville Pike and is open every day except Thanksgiving, Christmas and New Year's Day.
For more information about Nashville Zoo, visit nashvillezoo.org