Nashville, TN – The Tennessee Department of Commerce and Insurance (TDCI) releases the insurance rates requested by carriers offering coverage on the Federally Facilitated Marketplace (FFM) ahead of Open Enrollment for 2018.
The deadline for rate requests was July 1st and three carriers filed rates with the Department.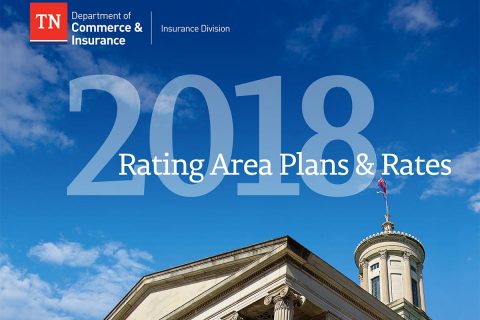 TDCI is also making available a map of the state showing where carriers have filed forms and rates and providing examples of average premium prices for 35- and 55-year old individual purchasers.
BlueCross BlueShield of Tennessee, Cigna, and Oscar Health have all notified the Department they intend to offer coverage on the FFM in 2018.
The following rates have been requested:
BlueCross BlueShield of Tennessee: Average 21.4 percent increase (range: 4.6% – 44.5%)
Cigna: Average 42.1 percent increase (range: 12.2% – 182.2%)
Oscar Health: Initial rate request
Additional information on the individual plans that carriers have filed to offer for each of the eight rating areas in Tennessee for Plan Year 2018 can be found in the report attached with this release, as well as on the TDCI website. It is important to note that this data represents rates as filed and is subject to change pending approval by TDCI as well as signed QHP agreements in September.
All rates must be actuarially justified by TDCI and given final approval by the Centers for Medicare and Medicaid Services (CMS). The Department will review the rate requests with its actuarial team and has until August 16th to approve the policy forms and rates. The Centers for Medicare and Medicaid Services (CMS) will also review the filings and, following approval, companies will have until September 27th to sign agreements to participate in the marketplace.
"The Department is making this rate map available to help consumers identify potential coverage options for 2018 ahead of the open enrollment period," said TDCI Commissioner Julie Mix McPeak. "It's true that a substantial percentage of Tennessee's insurance consumers receive federal assistance through premium subsidies or cost-sharing reductions, but there is also a considerable population that pays the full premium price and then rather significant amounts for medical care in the form of deductibles and cost-sharing payments. We understand the frustration of Tennesseans over raising prices and our team listens to concerns and answers questions about health insurance every day. As Congress continues to debate ACA reform efforts, Members could help bring immediate stability and potential rate relief for our consumers by appropriating cost-sharing reduction payments for the 2017 and 2018 plan years. Every dollar matters when Tennessee consumers are feeling like they need to choose between health insurance or groceries or mortgage payments and the Congress could take action that would pay immediate dividends."
The final deadline for approval of any proposed rates is August 16th. Open Enrollment is November 1st through December 15th.
About the Tennessee Department of Commerce & Insurance
Tennessee Department of Commerce & Insurance (TDCI) protects the interests of consumers while providing fair, efficient oversight and a level field of competition for a broad array of industries and professionals doing business in Tennessee. Our divisions include the State Fire Marshal's Office, Insurance, Securities, Consumer Affairs, Tennessee Law Enforcement Training Academy, Regulatory Boards, Tennessee Emergency Communications Board, Tennessee Corrections Institute, and TennCare Oversight.
To check a license of a professional regulated by the Department, go to http://verify.tn.gov/.