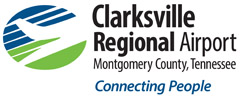 Clarksville, TN – A once-in-a-lifetime sky gazing opportunity will occur this summer and Clarksville Regional Airport (CKV – Outlaw Field) is inviting the community to watch this historic phenomenon from the grounds of the airport.
A total Solar Eclipse will take place on Monday, August 21st, 2017 and Clarksville Regional will host a free-to-the-public Solar Eclipse Viewing Event from noon until 3:00pm.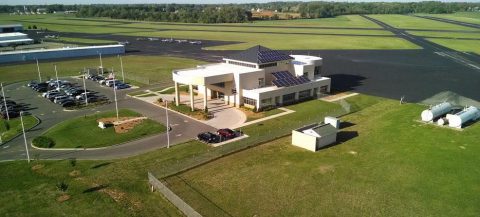 The Solar Eclipse Viewing Event will allow both the public, and pilots who plan to fly in, the chance to experience an unobstructed view of a total eclipse.
A solar eclipse occurs when the moon passes directly between the earth and the sun, causing a shadow to be cast across the earth. A total eclipse occurs only if the viewer is near the center line of the narrow "path of totality" that creates a complete block out of the sun for a short period of time.
Clarksville falls within the path of totality, expected to begin locally at 1:25:32pm CDT. During this time the Clarksville area will experience approximately 2 minutes, 18 seconds of darkness during midday.
"At Clarksville Regional Airport, we keep our eyes on the skies every day as we accommodate thousands of flights in and out of our facility each year," said Airport Manager John Patterson. "We're very excited to host the public, as well as scientists and pilots planning to fly here for this historic event. We feel the airport is ideally suited to host solar eclipse viewers on our spacious, family-friendly 375-acre property."
Clarksville Regional Airport should be an optimal location for eclipse viewing. Just a mile from the Tennessee-Kentucky state line, Clarksville's airport is closer than many designated viewing locations to the point of greatest eclipse (where the moon's shadow passes closest to the Earth). Nearby Hopkinsville, Kentucky is designated as the "point of greatest eclipse," with totality there expected to last 2 minutes and 40 seconds.
Eclipse viewers are welcome to bring their lawn chairs, coolers, blankets and pop-up tents or umbrellas for shade. Attendees will be responsible for removing and disposing of any trash. Pop-up tents must be staked to avoid blowing and disrupting airport operations, which will remain active throughout the day. Viewers should use only approved ISO and CE certified eclipse viewing glasses. The airport will provide water, parking and an unobstructed viewing experience.
Pilots planning to fly in are encouraged to contact the airport in advance to assure aircraft accommodations such as parking, tie-down and fuel services. Clarksville Regional Airport features two asphalt-paved runways, a full-service terminal, fueling options and on-site concierge staff. Patterson expects scientists, pilots and even "eclipse chasers" from all over the world will come to the Clarksville – Hopkinsville area to view the eclipse.
Patterson said the 2017 Solar Eclipse is a great reason to fly in and visit Clarksville. "We'll be happy to answer any questions about other things to do while you're in town," he added. "Don't miss your chance to experience the solar eclipse with us – there's no better place to view this historic event."
Totality will be viewable in a 60-mile wide path arching across the United States from Oregon to South Carolina. It is the first total solar eclipse to be viewable from coast-to-coast in 99 years.
For more information about the Solar Eclipse Viewing Event, contact John Patterson at 931.431.2080 or visit www.clarksvilleregional.com/solar-eclipse-2017