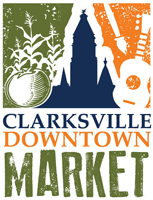 Clarksville, TN – A community favorite and shopping destination, the Clarksville Downtown Market on Public Square, offers a variety of events.
Some of the upcoming events include Summer Grilling, Pop-Up Markets, and Farm to Market Dinner.
Festivities are free of charge and diverse, offering something for visitors of all ages looking to have a great time at one of Clarksville's most treasured gathering places.
Upcoming Events
Summer Grilling — 8:00am to 1:00pm Saturday, July 15th: Vendors will be grilling up their delicious meats and veggies and providing free samples, while they last!
Pop-Up Markets at the Mayor's Summer Night Lights ?- 5:30pm to 8:00pm Wednesday, July 19th at Lincoln Homes and Monday, July 24th at Summit Heights: Stop by to shop fresh produce and meats from a handful of market vendors. SNAP benefits will be accepted.
Farm to Market Dinner — 6:30pm Saturday, August 12th: Show your support for the market by gathering on Strawberry Alley to experience the pleasures of eating local. Everything served will be grown and produced by market vendors. Tickets on sale now on Eventbrite.com
About The Clarksville Downtown Market
The Clarksville Downtown Market is a weekly open-air market featuring local farmers and artisans who offer locally grown fresh produce, food items, and handcrafted products. The Market strives to provide an opportunity for local customers to connect with local businesses, while enhancing quality of life in our community.
Enjoy live music, meet the Market mascot, "Corny the Cob," and experience special events on select market days.