Clarksville-Montgomery County Residents must take precautions during August 21st event
Clarksville, TN – Clarksville-Montgomery County is in the path of the Great American Eclipse of August 21st, 2017, making this a prime destination for those who want to view this rare astronomical occurrence.
This will be the first coast-to-coast eclipse in 98 years and the first in the continental United States since 1978. The eclipse can only be seen in a path 60 miles wide across the United States, so this will be a once in a lifetime experience to to witness a fascinating natural phenomenon.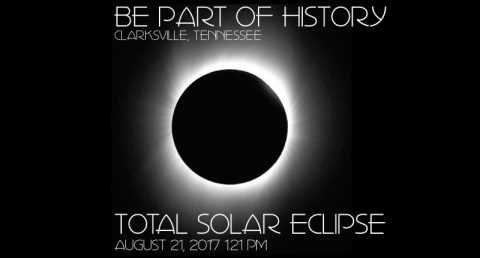 The total eclipse is a process that will last more than an hour. Starting around noon, the sun will slowly be covered by the moon, gradually engulfing the area in total darkness for about two and one-half minutes. Then, the process reverses and the world slowly returns to light.
The epicenter of the eclipse is less than 30 minutes away from Clarksville-Montgomery County, and this community is in the area known as the "path of totality." From here, at about 1:21pm CDT, observers will get 2 minutes and 18 seconds of total darkness.
The City of Clarksville will be open for business as usual on Monday, August 21st, 2017. The Clarksville-Montgomery County School System will close schools that day; Montgomery County government offices will close; Fort Campbell will have no scheduled activities and schools on post will not be in session.
Local residents are warned to be mindful of the event and be prepared for these key issues:
First, there will be an unusual period of darkness at midday.
An expected 100,000 or more visitors may be in our community that day, as well as the Saturday and Sunday prior, causing heavy traffic and congestion on the roads.
Most importantly, the eclipse must not be viewed by the naked eye. Everyone should have special protective eyewear if they want to view the eclipse, and parents and guardians must have eyewear or a plan to safeguard the eyes of minor children.
Since this community offers a unique front-row seat to experience this phenomenon, NASA officials are partnering with Austin Peay State University to study the eclipse, and APSU, the City of Clarksville, and Beachaven Winery are sponsoring viewing events on August 21st, 2017.
Fortera Stadium
Austin Peay's Fortera Stadium will open to the public at 11:30am for the public to view the eclipse. The cost is $5.00 to park, with each vehicle receiving a free pair of viewing glasses. The stadium's scoreboard will display a live feed from the APSU observatory. Beginning at noon, members of APSU's Department of Physics and Astronomy will provide scientific and historical information about the phenomenon.
Liberty Park
The City of Clarksville's free event will begin at 10:00am at Liberty Park, 1188 Cumberland Drive. Guest speakers from Austin Peay State University will be on hand to explain this once in a lifetime event. Food trucks will be selling their wares. Parking and seating is a first come, first serve situation. Protective viewing eyewear is required.
Beachaven Vineyards & Winery
The Beachaven Winery event will be from 11:00am to 5:00pm at the winery, 100 Dunlop Lane, and include reserved seating for group tour buses and the public. Enjoy live music, food trucks, activities for kids and a special label wine, Blackout Blackberry.
Clarksville Regional Airport
Clarksville Regional's free Solar Eclipse Viewing Event will be from noon to 3:00pm, allowing the public, and pilots who plan to fly in, an unobstructed view of the eclipse. Visitors may bring lawn chairs, coolers, blankets and pop-up tents or umbrellas for shade. Pop-up tents must be staked to avoid disrupting airport operations, which will remain active throughout the day. The airport will provide water and parking.
---
For local stories on the Total Solar Eclipse in Clarksville visit: www.clarksvilleonline.com/tag/total-solar-eclipse