Nashville, TN – Do animals behave differently when experiencing a total solar eclipse? That's what Nashville Zoo intends to find out on August 21st, 2017 when much of Middle Tennessee will witness an event that last took place in this area more than 150 years ago. To accomplish this, Zoo officials are asking guests to observe and record while experiencing the event.
"There is not a lot of documented observation of animal behavior during a solar eclipse," says Chad Fifer, Nashville Zoo's education director. "We've read that some animals may begin behaving strangely, such as preparing for sleep, some nocturnal animals begin waking up, and others appear not to be affected at all. We are very interested in discovering what our animals will do."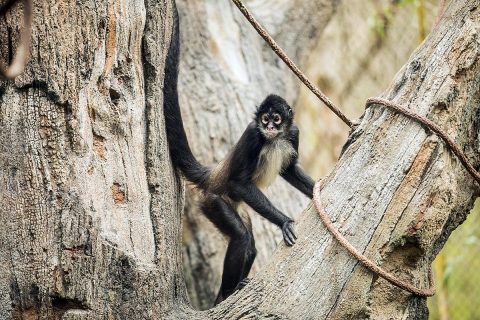 Between noon and 3:00pm, guests are asked to record animal behaviors using their mobile devices.
The Zoo is encouraging guests to download an app called iNaturalist (https://www.inaturalist.org/) developed specifically to record and share observations of nature.
Guests can also share their observations by posting on social media, tagging Nashville Zoo and/or using #nashvillezoo or #nzooeclipse.
"This is a huge learning opportunity for all students in our area," says Fifer. "We will be offering tips on observing animals and our keepers will also be at exhibits during the eclipse to answer questions and point out atypical behaviors." The Zoo plans to share the information for use in the future.
The first 5,000 guests to enter the Zoo on August 21st will receive a free pair of solar eclipse glasses. For Nashville, the solar eclipse will begin at roughly noon on August 21st, 2017 and reach totality about an hour and half later. Totality (when the moon is completely covering the sun) will last about 1.5 minutes before the sun begins to shine again.
While there are many areas within the Zoo to see the eclipse, the Zoo's Festival Field is an ideal spot for guests to gather during the time of eclipse totality. Additionally, the Zoo will have bounce houses and information tables on Festival Field during the eclipse.
To learn more about the Zoo's Great American Solar Eclipse: Animal Observation Experience, visit the Zoo's website: https://www.nashvillezoo.org/upcoming-events/entry/solar-eclipse/instance/8-21-2017
About Nashville Zoo
Nashville Zoo is a nonprofit organization and an accredited member of the Association of Zoos and Aquariums, assuring the highest standards of animal care and husbandry. The Zoo is actively engaged in conservation research, habitat protection, breeding programs and education initiatives around the globe as well as in our own backyard.
Celebrating 20 years at Grassmere, the Zoo attracts more than 890,000 visitors annually and is considered one of the top attractions in Nashville. Nashville Zoo is located at 3777 Nolensville Pike and is open every day except Thanksgiving, Christmas and New Year's Day.
For more information about Nashville Zoo, visit www.nashvillezoo.org