Back at school, 'Kindness is Cool'
Clarksville, TN – Clarksville Mayor Kim McMillan and Montgomery County Mayor Jim Durrett have proclaimed August as "Kindness is Cool — Back to School Month."
Durrett and Clarksville Mayor Pro Tem Valerie Guzman presented the proclamation Tuesday at the Clarksville-Montgomery County Public Library as part of Clarksville Kindness Rocks project to promote random acts of kindness using art as a creative way to touch people.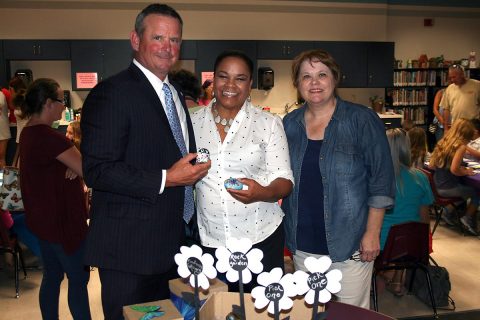 Rita Arancibia, founder of Arts for Hearts, has adapted the Kindness Rocks movement by inviting Clarksvillians of all ages to paint rocks — big or smooth rocks, little or bumpy rocks — and hide them around town for others to find, keep, re-hide, or substitute with a painted rock of their own.
After the Kindness is Cool — Back to School Month proclamation was read Tuesday, Arancibia, Guzman and Durrett led some two dozen youngsters to the library's craft area for some rock painting fun.
Arts for Hearts, which operates under the umbrella of the Clarksville-Montgomery County Arts and Heritage Development Council, wants to bring together artists and volunteers to build a connected community engaged in creating, discovering and participating in the arts.
Arancibia especially wants the Kindness Rocks theme to spread into the schools as students head back to classes this week.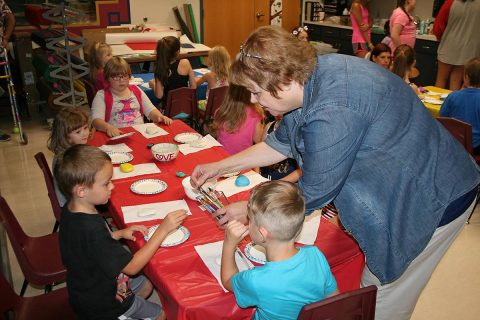 Many families are painting rocks to place in the community. The Clarksville Kindness Rocks Facebook page shows people displaying painted rocks with hints of where they'll be hidden.
Arts for Hearts sponsored the rock painting at the library and a number of painting and hiding programs to get families started. They recently worked with the Clarksville Police Department to paint and distribute kindness rocks.
And more is planned.
From noon to 5:00pm August 19th, 2017 Arts for Hearts will host Clarksville Rocks the Great Eclipse at Riverview Inn, where children and adults can paint coronas or other representational images of the eclipse on rocks, create watercolor paintings, or make booklets to record their eclipse experiences.
This event is a fundraiser to help Arts for Hearts continue the program. Each art project will cost $5.00. Tickets can purchased at the door or on Eventbrite. Funds from the event also will be shared with After Deployment, a program to support military and their families experiencing Post Traumatic Stress Disorder.
For more, go to the Arts for Hearts Facebook page or website, www.artsforheartsclarksvile.org
The City of Clarksville's Parks and Recreation Department will conduct Arts For Hearts Community Workshops for seniors 50-plus from 11:00am to 12:30pm on six Thursdays this fall at Burt-Cobb Recreation Center. The workshop dates are September 14th and 28th; October 12th and 26th; November 9th; and December 7th. Volunteers will guide participants through the creative process.
Seniors should register at CityofClarksville.com/ParksRec.
PROCLAMATION
"Kindness Is Cool – Back to School Month"

WHEREAS, the City of Clarksville and Montgomery County,
Tennessee recognize the value of simple acts of kindness
performed without prompting or reason; and

WHEREAS, these acts of kindness can positively impact the
performer, the recipient and the onlooker of the good
deed; and

WHEREAS, August is being declared as "Kindness is Cool-Back to
School Month" for Clarksville-Montgomery County
Schools and each school is challenged to perform acts of
kindness as part of the declaration; and

WHEREAS, people of any age can participate in cool acts of kindness
any time, any place, just for the unselfish purpose of
spreading goodwill; and

WHEREAS, by providing cool acts of kindness and reaching out to
one another, regardless of social or economic status,
education, gender, origin, religious belief, age, lifestyle or
abilities, we extend an opportunity for grace, dignity and
acceptance that might not otherwise be offered.

NOW, THEREFORE, WE, JIM DURRETT, Mayor of Montgomery
County, and KIM McMILLAN, Mayor of the City of Clarksville, ?hereby
proclaim August, 2017, as

"KINDNESS IS COOL-BACK TO SCHOOL MONTH"
in the City of Clarksville and Montgomery County and urge students and
all citizens of this community to join with us in recognizing and performing
random acts of kindness.
Mayor Kim McMillan
Mayor Jim Durrett