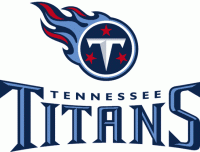 Nashville, TN – The Tennessee Titans offense looked slugish at best Saturday night in their 7-3 loss to the New York Jets at MetLife Stadium. The offense as a whole had problems stopping the blitz. Titans quarterback Marcus Mariota was sacked hard by Jets defensive lineman Leonard Williams. Mariota got right up and went on like nothing happened.
The New York Jets took their opening drive 78 yards for a touchdown. Quarterback Josh McCown hit wide receiver Charone Peake with a 4 yard pass for the score. The Tennessee defense stiffened up after this and did not allow the Jets another point.
On the offensive line struggles, Tennessee Titans coach Mike Mularkey stated, "Yeah, that was what was disappointing because it wasn't just rookies, it was veterans. The problem was against blitzes we face every day. And it wasn't just the line. It was backs included. It was everybody. We've got to clean up some things, obviously. But it wasn't just the rookies. It was some veterans that I'm disappointed in."
Mariota played the entire first quarter. He completed 2 of 3 passes for 15 yards. He also scrambled once for 6 yards. Alex Tanney then came in for Mariota. Tanney was 11 of 27 for 132 yards and an interception. He also ran twice for 28 yards.
"I was pretty pleased with Marcus. It was good to see him go to his right the first play, out on an unblocked defender and (he) moved around the pocket really well, made some plays. I was pretty pleased with him," said Mularky.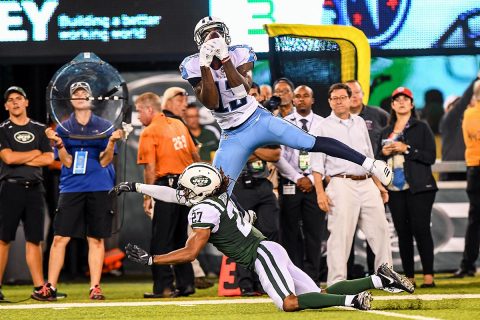 Third round draft pick receiver Taywan Taylor was a bright spot for the Titans. Taylor hauled in four catches for 56 yards. He had one pass that was thought to be a touchdown but was called back to the spot of the catch due to being ruled down.
"Yeah, that was a big play", Mularkey stated. "Again, that was close, too. I don't know exactly if he was touched or not. It was a close play, a big play for him. He did some good things. He did some things he needs to improve on with his route running, but I was pleased for him, for his first game as a Titan."
Taylor's catch set up kicker Ryan Succop for a 36 yard field goal. It would be the Titan's only points in the game.
"Well, that was not the way we wanted to start the preseason, obviously, but there were some good things defensively, if there was anything. Not good offensively even though we still had opportunities to win the game at the end, we just kept finding ways to lose it," said Mularkey.
"We've got a lot of work to do. It was a good wakeup call for us offensively. A good example of if you play like that, you're going to lose the game," Mularkey stated. "I did like some of the things our defense did. I liked what some of the young guys on defense did."
The Tennessee Titans return home Saturday, August 19th, to host the Carolina Panthers at Nissan Stadium. Kick off is set for 2:00pm CT.