Written by Lt. Col. Angela Wallace
Army Reserve Medical Command
Harlem, MT – In an agricultural community less than 50 miles south of the Canadian border lies a town filled with history, culture and a small group of medical professionals from the U.S. Army and U.S. Army Reserve who are determined to make a difference.
The nearly 50 Soldiers assigned to Army Reserve Medical Command's 7234th Medical Support Unit based out of Vallejo, California, and U.S. Army medical personnel assigned to 24th Medical Detachment, 44th Medical Brigade, 18th Airborne Corps based out of Fort Bragg, North Carolina, in partnership with Fort Belknap Indian Health Service, offered a variety of health care services at the Fort Belknap Hospital in Harlem and Eagle Child Health Station in Hays, Montana from July 22nd through August 6th, 2017.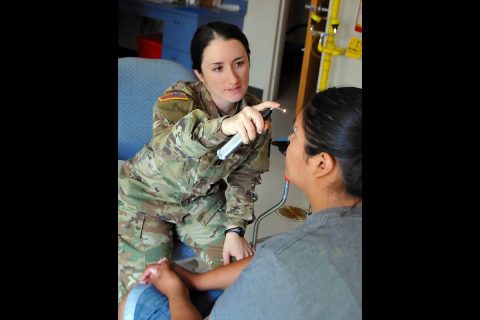 When Staff Sgt. Joshua Martinez, the non-commissioned officer-in-charge for the 7234th MSU, learned that his unit was going to be able to participate in the special mission, he was surprised and enthusiastic about the opportunity.
"I didn't even know we did this type of mission in the U.S. Army. When they told us, I was like 'Let's do it! Let me at it!' I knew we'd do great things here," Martinez said.
Services provided by Army Reserve and Army personnel are done through the Department of Defense's Innovative Readiness Training, a civil-military program that builds mutually beneficial partnerships between U.S. communities and the DoD. IHS provides preventive, curative, and community health care for approximately 2.2 million American Indians and Alaska Natives in hospitals, clinics, and other settings throughout the United States. Though medical care is available at Fort Belknap's two IHS facilities, the additional help provided by Soldiers is still needed according to Martinez.
"Since this place is so remote, and doesn't have the full staff and services they need to support this large population, we knew we could get them ahead of things on patient care. We're also able to help provide some services they wouldn't be able to provide on a regular basis due to lack of personnel. We want them to know the military is here to help support them.
"It's worked out really well. Integrating with the staff has been smooth, and a lot of the patients have served in the military so it's added pleasure to provide support to Veterans," said Martinez.
Frankie Hernandez, the lead emergency medical technician for Fort Belknap Agency, echoed the need for additional support. "This is my third year working with the military for Innovative Readiness Training missions. I love when they come here because we're in a rural area. We don't have that much help in terms of employees working the ambulance. They're a lot of help with calls, with transfers and hands on with our training," Hernandez said.
Community needs such as infrastructure, health care, transportation, and cybersecurity align with the Army Reserve's mission essential training requirements to ensure combat readiness. America's Army Reserve professionals train in these specialties along with a host of other partnership, leadership, planning, logistics, and support skills. These partnerships create whole-of-government and whole-of-society efficiencies while strengthening military relationships with the local communities.
Capt. Emy Thompson, a U.S. Army optometrist assigned to Fort Campbell, Tennessee, supported the mission at Eagle Child Health Station along with personnel assigned to the 24th Med. Det. For Thompson, an active duty officer accustomed to caring for Soldiers, the mission is about giving back to America's communities.
"I love being able to support those who are serving in the military, but my passion is to help underserved populations and public health service. We brought lots of great Soldiers with us that are providing eyeglass fabrication services on site. Not only are we providing eye exams but also the glasses and lenses that our Soldiers are making to ensure people have a pair of glasses within two days of seeing us at no charge to them," said Thompson.
"I'm thankful for the experience to be here. This has been an opportunity for me not only as a provider to get to see a variety of patients, but also a different culture that I'm not accustom to. I'm glad to be able to serve in any capacity, but especially a population in need," concluded Thompson.
Medical services provided during the two-week mission included general exams, school exams, eye exams, physicals and eyeglass fabrication. Dental services provided included exams, x-rays, general cleaning and extractions. In total, more than 600 patients were cared for by the team to include 34 x-rays, 413 dental procedures, 2,200 prescriptions filled in the pharmacy and 490 pairs of glasses fabricated and distributed to patients.
The Fort Belknap mission is the final IRT mission for ARMEDCOM in 2017, ensuring more than 300 Army Reserve Soldiers enhanced their skillsets while providing support to thousands of personnel located in communities throughout the United States.