APSU Sports Information
Clarksville, TN – Austin Peay State University's volleyball team overcame a five-point deficit in the final set to stun No. 19 Missouri in five sets (25-11, 19-25, 27-25, 22-25, 17-15), Saturday afternoon in the second day of the Culvers Governors Challenge at the Dunn Center.
Austin Peay (3-0) faced a five-point, 10-5, deficit in the fifth set after Missouri (2-2) rallied for runs of three and four points in the early part of the frame.
The Governors knocked four points off that deficit as senior Ashley Slay and redshirt junior Christina White combined for three kills. Slay then served the Govs to a 12-11 lead with a service ace.
Three points later, Austin Peay had the first match-point chance at 14-13, but could not capitalize. Missouri scored the next two points on kills by Sydney Deeken and Kayla Caffey and had their own match point chance at 15-14.
But White came up with her 15th kill of the match to tie the set at 15-15. A Missouri attack error on the ensuing point handed APSU its second match point chance. Junior Kaylee Taff sealed the win with her fifth block stopping Missouri's Kayla Caffey.
The match started with each team delivering a body blow to its opponent. Austin Peay dominated the first set thanks to 15 kills, five service aces and three blocks as part of a 25-11 wire-to-wire win. The Tigers responded immediately with a 13-kill, four-block outing in the second frame, which they won in wire-to-wire fashion, 25-19.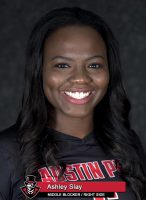 But the seeds for the drama of the final three sets were sown in the closing moments of the second set. Austin Peay trailed by 12 in the second but closed the frame by outscoring Missouri 12-6 to show they would not fade under the pressure.
The third set saw the teams trade the lead three times and battle through 10 ties with Missouri forcing overtime by denying the Govs a set-point chance at 24-23. The Govs would have two more chances to close the set at 25-24 and 26-25 with a Tigers attack error again giving APSU the set victory.
Missouri then rallied from a six-point deficit in the fourth set, using a 9-0 run to build a 14-12 lead. Austin Peay would tie the set at 18-18 but could not regain the lead and Missouri forced a fifth frame with the 25-22 win.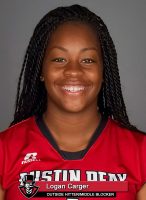 While Slay finished with 20 kills – her second straight 20-kill performance – the early lifting was done by White and sophomore Logan Carger. The latter duo had 11 kills each in the first three sets with White posting 15 kills and Carger 12 in the final tally. Junior Kristen Stucker posted 57 assists on the Govs 64-kill outing.
Austin Peay dominated the service game, scoring 14 service aces while Missouri notched only four aces. Freshman Brooke Moore, sophomore Ginny Gerig, White and Slay had three service aces each. Meanwhile, the Govs forced a draw at the net, tying the Tigers with nine blocks in the contest.
Missouri's Leketor Member-Meneh saw her 22-kill outing go for naught in the loss. Alyssa Munlyn added 11 kills and seven blocks.
Austin Peay closes out the Culvers Governors Challenge with a noon, Sunday contest against Northern Iowa. The Panthers are 2-0 in the tournament after wins against Missouri and Middle Tennessee, Saturday.
Quotably Taylor Mott
On the First Two Sets. "I think the first two sets were crazy. We had all the momentum in the first set and Missouri all the momentum in the second set. Neither one of us could seem to string anything together in the sets we didn't do well in. But after that we both settled down and figured out who was doing what and it settled down after that."
The Govs Toughness.
"I think right now the difference in this year's team from last year is we have a little more experience. We kept our composure, where last year's team we would've been a little timid I just don't think we were really timid. We took big swings, we weren't ever really afraid. We weren't trying not to lose we were trying to win."
That Serve Though. "I think our serving right now is top notch. We're keeping teams out of system, especially good teams like Missouri. Serving to me was the key in this match."
Not Just Slay. "Most teams look at the stats and see Ashley is our best player so she is going to have a tough day sometimes because they camp out on her. What will make us good is when we have other hitters step up, and we don't have to rely on her. Ashley did her job making the other team respect her and our other hitters did their job by taking advantage of being one on one."
Govs Notably
Now 3-0. Austin Peay's 3-0 start is its best launch since the 2008 season when it opened up with a 4-0 record in its own season-opening home tournament.
Another SEC Victory. Mott, an Ole Miss graduate, notched her second victory against the Southeastern Conference in her sixth season at Austin Peay. She had led the Govs to two of their five wins against current SEC members.
Back-to-Back 20s. Slay posted 20 kills for a second consecutive match. It is her first career back-to-back 20-kill outings and it was her fourth career 20-kill effort. She is the first APSU hitter with back-to-back 20-kill nights since Jada Stotts in 2014.