Donors of all blood types urgently needed to help patients this fall
Nashville, TN – Feel good, do good and look good this September by donating blood or platelets with the American Red Cross and get a free haircut coupon from Sport Clips Haircuts. Blood and platelet donors of all blood types, especially type O negative and O positive, are urgently needed to replenish the blood supply following a critical summer blood shortage.
"We are excited to continue the Saving Lives Never Looked So Good campaign and partnership with Sport Clips this September," said Donna M. Morrissey, director of national partnerships, Red Cross Biomedical Services.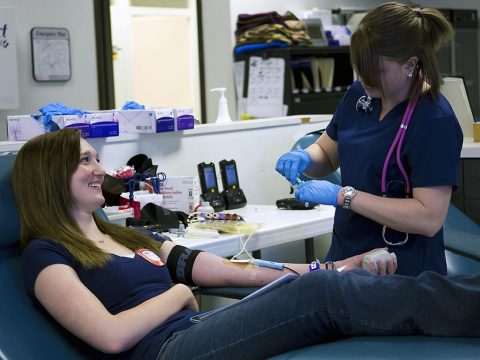 "We are grateful for Sport Clips showing its support of the Red Cross and saying 'thank you' to those helping save lives through blood donations., stated Morrissey.
Those who come out to give blood or platelets September 1st-30th will receive a coupon for a free haircut via email several days after their donation. The coupon is valid through November 11th, 2017, at participating Sport Clips locations. Donors must have a valid email address on record to receive the coupon.
"Sport Clips is proud to support the blood collection efforts of the Red Cross on a national level," said Amanda Palm, corporate communications manager of Sport Clips. "There is always a need to maintain the blood supply in our country, and a free haircut is a simple way we can thank donors for their lifesaving donation."
Donors are urged to make an appointment to donate using the free Blood Donor App, online at redcrossblood.org or by calling 1.800.RED.CROSS (1.800.733.2767). The Red Cross and Sport Clips encourage donors to use the hashtag #SavingLivesLooksGood to share their new looks and invite others to give.
Upcoming blood donation opportunities
St. Stephen Catholic Church, 1698 Canton Road Cadiz, KY 42211
9/5/2017: 11:00am – 5:00pm
St. John Lutheran Church, 2300 Highway 96 Burns, TN 37029
9/12/2017: 1:00pm – 6:00pm
Horizon Medical Center, 111 Hwy 70 E. Dickson, TN 37055
9/8/2017: 10:30am – 3:30pm
White Bluff Church of Christ, 4416 Hwy 70 White Bluff, TN 37187
9/4/2017: 9:00am – 2:00pm
American Red Cross, 1760 Madison St. Clarksville, TN 37043
9/4/2017: 8:00am – 1:00pm
9/11/2017: 10:30am – 4:30pm
APSU Foy Center, 521 Marion St. Clarksville, TN 37044
9/13/2017: 10:00am – 3:00pm
How to donate blood
Simply download the American Red Cross Blood Donor App, visit www.redcrossblood.org or call 1.800.RED.CROSS (1.800.733.2767) to make an appointment or for more information. All blood types are needed to ensure a reliable supply for patients.
A blood donor card or driver's license or two other forms of identification are required at check-in. Individuals who are 17 years of age in most states (16 with parental consent where allowed by state law), weigh at least 110 pounds and are in generally good health may be eligible to donate blood. High school students and other donors 18 years of age and younger also have to meet certain height and weight requirements.
Blood donors can now save time at their next donation by using RapidPass to complete their pre-donation reading and health history questionnaire online, on the day of their donation, prior to arriving at the blood drive. To get started and learn more, visit redcrossblood.org/RapidPass and follow the instructions on the site.
About the American Red Cross
The American Red Cross shelters, feeds and provides emotional support to victims of disasters; supplies about 40 percent of the nation's blood; teaches skills that save lives; provides international humanitarian aid; and supports military members and their families. The Red Cross is a not-for-profit organization that depends on volunteers and the generosity of the American public to perform its mission.
For more information, please visit redcross.org or cruzrojaamericana.org, or visit us on Twitter at @RedCross.
About Sport Clips Haircuts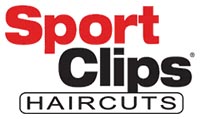 Sport Clips Haircuts is headquartered in Georgetown, Texas. It was established in 1993 and began franchising in 1995. The sports-themed haircutting franchise, which specializes in haircuts for men and boys, is ranked by Entrepreneur Magazine as one of the "Fastest-Growing Franchises" and in the top 10 in its "Franchise 500."
There are more than 1,600 Sport Clips stores open in the U.S. and Canada. Sport Clips is the "Official Haircutter" of the Veterans of Foreign Wars (VFW), offers veterans preferential pricing on haircuts and franchises, and was named a "2016 Best for Vets: Franchises" by Military Times. Sport Clips provides "haircuts with heart" through its annual Help A Hero fundraiser that has given $5 million to the VFW; national partnership with St. Baldrick's Foundation, the largest private funder of childhood cancer research grants; and other national and local philanthropic outreach.
Sport Clips is a proud sponsor of Joe Gibbs Racing's NASCAR driver Denny Hamlin and Furniture Row Racing's Erik Jones, and partners with numerous NCAA and professional sports teams.
To learn more about Sport Clips, visit sportclips.com