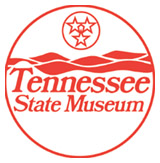 Nashville, TN – The State Museum's annual ghost story festival, Haunted Museum, will take place on Saturday, October 21st, 2017 from 10:00am to 2:00pm. It is a FREE event with lots of surprises!
The event features a "ghost trail" through the museum with prizes, crafts, and refreshments. At stops along the ghost trail there will be chilling ghost stories from Tennessee's past, including the Bell Witch, the Cherokee spirit Spearfinger, John Murrell's thumb, and many other scary tales.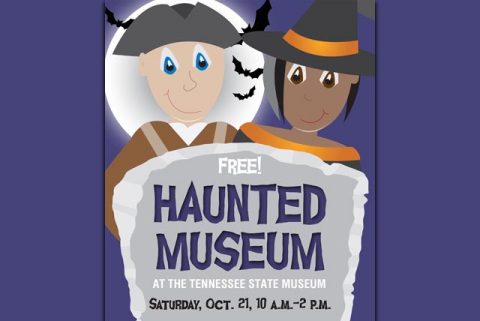 This year, Nashville's co-founder James Robertson, will be practicing medicine as it was in frontier times.
The trail ends at the Haunted Storyteller's Stage where professional storytellers from Explorastory will spin tales about Tennessee. The Explorastory storytellers shape their stories to promote social justice, family values, and citizenship while bringing history and tradition to life.
Children will receive prizes as they follow along the ghost trail. Those attending the Haunted Museum event are invited to wear costumes and enjoy complimentary refreshments.
Located at Fifth Avenue and Deaderick Street in downtown Nashville, the museum is open 10:00am to 5:00pm, Tuesday through Saturday, and 1:00pm to 5:00pm on Sunday and is free to the public. On Saturdays, parking is free at the state employee parking lots to the west of the State Capitol. More information can be found on the museum's website at www.tnmuseum.org.
Please visit the Haunted Museum image gallery at tnmuseum.org/MediaGallery
About the Tennessee State Museum:
In 1937, the Tennessee General Assembly created a state museum to care for World War I artifacts and other collections from the state and other groups. The museum was located in the lower level of the War Memorial Building until it was moved into the new James K. Polk Cultural Center in 1981. The Tennessee State Museum currently occupies three floors, covering approximately 120,000 square feet with more than 60,000 square feet devoted to exhibits. The museum's Civil War holdings of uniforms, battle flags and weapons are among the finest in the nation.
The new Tennessee State Museum is scheduled to open in fall of 2018 on the northwest corner of the Bicentennial Mall at the corner of Rosa L. Parks Boulevard and Jefferson Street.
For more information please visit: www.tnmuseum.org.