Clarksville, TN – This September, Austin Peay State University will commemorate the anniversary of the 9/11 terrorist attacks with a special community art project, Honoring 9/11 through Art and Art Therapy.
The program, conceived by Ken Shipley, APSU professor of art, and Melody Shipley, ceramic artist, is designed to support and engage individuals reflecting on the sacrifices of those who died on September 11th, 2001, and to honor those who rose in service and continue to serve as a result of that tragedy.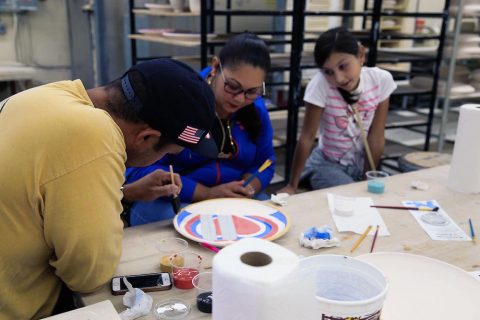 "After 9/11, the military saw numerous new enlistments," Melody said. "All members of the military have fought valiantly since the invasions of Afghanistan and Iraq, and many brave soldiers gave their lives in the line of duty. Our goal through this program is to honor Gold Star families, specifically children of fallen soldiers from Fort Campbell, Kentucky. We also plan to include veterans and families who have been adversely affected by the tragic consequences of war, such as Post-Traumatic Stress Disorder and other mental and physical disabilities."
The Honoring 9/11 through Art and Art Therapy program consists of two phases. In the first phase, Gold Star families, veterans and families adversely affected by the wars in Iraq and Afghanistan, along with first responders and their families, are invited to create works of art to honor and remember their family members. The second phase of the program will be to display these works at various venues, including APSU's Woodward Library.
Families are invited to room 101 of APSU's Trahern Building, from 5:00pm-8:00pm, September 5th-7th, to decorate clay and ceramic platters depicting their reflections and thoughts. Austin Peay artists, art students, mental health counselors and graduate students in APSU's Clinical Mental Health Counseling Program will be on hand for assistance.
At 5:00pm on September 11th, the University will host an opening reception for the Honoring 9/11 through Art and Art Therapy art exhibit in the APSU Woodward Library. The event is free and open to the public.
For more information, contact Melody Shipley at or 931.221.7833