APSU Sports Information

Murray, KY – A pair of freshmen stood out for Austin Peay State University men's golf during the first 36 holes of the MSU Invitational, hosted by Murray State at Miller Memorial Golf Course.
Chase Korte (70-70) and Garrett Whitfield (69-72) sit in eighth and ninth, respectively, after 36 holes.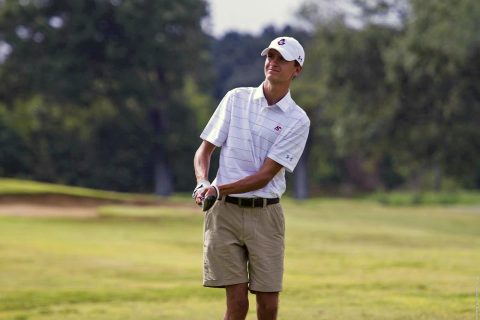 Whitfield's 69 makes him the first APSU freshman to shoot in the 60s on his first day of competition as a Governor since Anthony Bradley's second-round 69 at the 2010 Marshall Invitational.
As a group, the Govs sit in sixth with 18 holes to play, carding a 577 (292-285) as a group. Austin Peay was one of six schools to shoot better in the second round than the first, and its seven-stroke improvement tied with Chicago State for best round-to-round improvement.
Host Murray State owns the overall lead at 565 (279-286), followed by UT Martin (287-281=568) and Western Illinois (282-289=571), with Tennessee State (287-286=573) and Morehead State (284-290=574) rounding out the top-five.
The Govs hope for a boost in the final round from their veterans, each of whom improved from the first round to the second. Sophomore Michael Busse (76-74=150) sits tied for 50th, one shot up on senior Hunter Tidwell (77-74=151) and fellow second-year Austin Lancaster (82-69=151). Lancaster caught fire in the second round, with his 13-stroke improvement easily the best from one round to the next in the entire field.
Although the after-effects of Hurricane Irma are anticipated to reach southern Kentucky by Tuesday, the final round is slated to go off at 9:00am. Any weather updates will be available on Twitter @AustinPeayMGO.