APSU Sports Information

Batavia, OH – Austin Peay State University women's golf used a second-round 302 to vault into third place at the NKU Fall Classic, with 18 holes remaining, Tuesday.
The Governors 613 (311-302) leaves them seven shots behind leader UNC Asheville and six shots behind Dayton heading into the final day of play.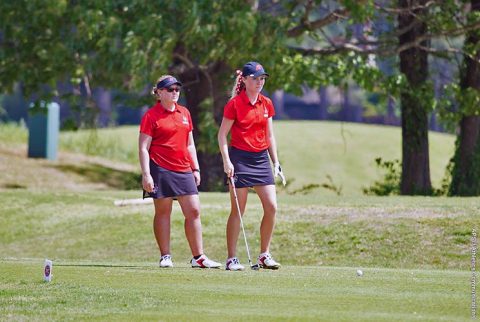 First-round leader Oakland (301-313) fell off the pace in the second round, with host Northern Kentucky (310-309) rounding out the top-five.
Austin Peay's second-round score equaled its team-low from the 2016-17 campaign, set four times (last: first round of the MVC Preview, October 3rd, 2016).
Of the five Ohio Valley Conference squads in competition, the Governors were clearly superior on Monday, besting Tennessee Tech (315-318=636; seventh), Morehead State (321-313=634; eighth), Belmont (321-320=641; 10th) and Eastern Illinois (338-327=665; 12th) as part of the 14-team field.
"This is an extremely challenging course," said head coach Sara Robson. "Holes 11, 13, 14 and 15—the back side is all about placement. We picked some good targets and some good clubs, but our execution was a little off. That got us in trouble early on, but we did a much better job in the afternoon."
Picking up right where she left off in qualifying, junior Ashton Goodley led the way for the Governors with a seven-over 149 (77-72), earning a share of third heading into the final day. Her final-round 72 was tied for the day's best round and her lowest round as a Governor, outpacing last season's 73 at the Saluki Invitational by a stroke. She also led Austin Peay with 27 pars.
Taylor Goodley also found her way into the top-10, carding a 152 (74-78) to earn a share of 10th, while senior AnnaMichelle Moore's 13th-place 153 (77-76) leaves her in excellent standing heading into the final round.
In her first tournament, freshman Riley Cooper carded a team-best six birdies, averaged a tournament-best 4.67 on par-5 holes and a team-best 3.00 on par-3s, showing a seven-shot improvement from round one (83) to round two (76) and tallying a 159 through 36 holes.
Sophomore Meghann Stamps rounded out the lineup for the Govs with a 174 (84-90), while Andrea Presilla's first 36 holes as a Governor bore out a 175 (87-88).
"We struggled almost across the board early, but came out in the second round determined to make up some shots," Robson said. "Taylor fought through some bad holes, Riley rallied back from her first round. I thought AnnaMichelle really played well, and Ashton played some of her best golf this afternoon. The 311 in the opening round wasn't horrible, but that second round was a total team effort."
Tuesday's final round is slated for an 8:30am shotgun start, with Austin Peay playing alongside players from Dayton, UNC Asheville and Oakland. Inclement weather is not expected to impact Tuesday's action.