Written by Sgt. Neysa Canfield
101st Sustainment Brigade, 101st Airborne Division (AA) Public Affairs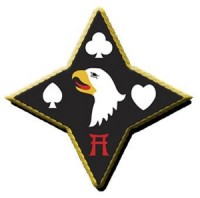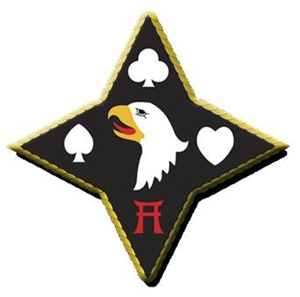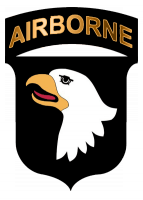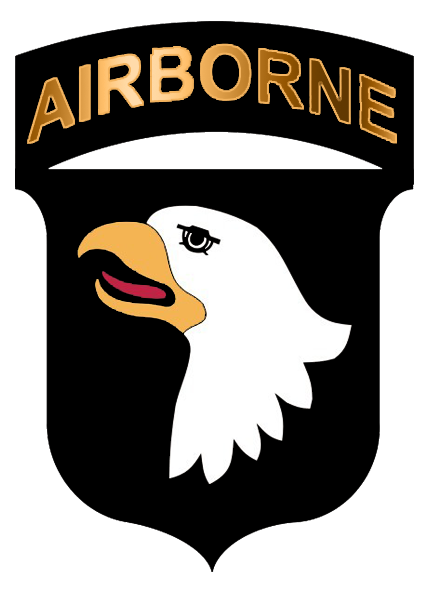 Fort Campbell, KY – "It took me 23 years to finally serve in the greatest division in our Army," said Command Sgt. Maj. Michael J. Perry III, outgoing senior enlisted adviser for the 101st Airborne Division (Air Assault) Sustainment Brigade "Lifeliners", 101st Abn. Div. "[The 101st Abn. Div.] was a division I always wanted to serve in, and I finally got the opportunity when the Army selected me to be 'Lifeliner 7,' nearly two years ago."
The Austintown, Ohio native, relinquished responsibility of the "Lifeliner" Brigade to Command Sgt. Maj. Anthony B. McAdoo, a native of Somerset, Kentucky, September 7th, during a change of responsibility ceremony, here.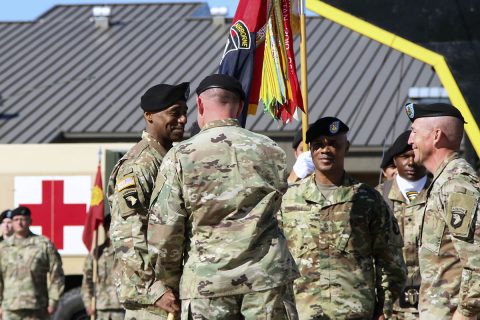 Perry, who enlisted in the Army in 1992 as a food service specialist, said that as young private he never imagined himself at his current level of leadership, much less celebrating 25 years of service.
"When I initially joined, I planned on serving only three years, taking advantage of the Army college fund and going back home to Ohio," said Perry. "It's amazing reflecting 25 years back, I never in my wildest dreams thought I would serve as a command sergeant major at any level."
After serving as the senior enlisted adviser for the 101st Abn. Div. Sust. Bde. for 22 months, Perry will go on to serve as the sustainment sergeant major for Combined Joint Task Force – Operation Inherent Resolve.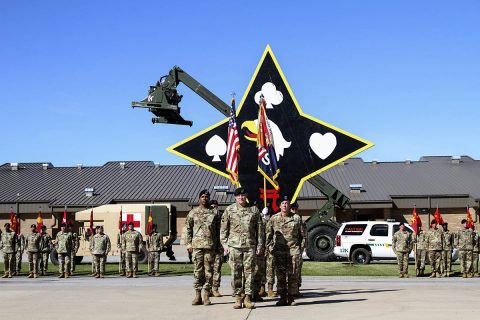 During his time as Lifeliner 7, Perry ensured Soldiers were trained and prepared to support the Sea Emergency Deployment Readiness Exercise in Port Arthur, Texas, Operation Atlantic Resolve in Europe, and deploy to Egypt, Cameroon and Kosovo.
"Command Sgt. Maj. Perry's leadership ensured that these deployed Lifeliners are representing this brigade and this division with the high standards and discipline he has instilled in all of us," said Col. Stanley J. Sliwinski, commander of the 101st Abn. Div. Sust. Bde. "He is highly intelligent, physically fit, he's passionate about our Army and our Soldiers, and he is the standard bearer for this brigade."
Although Perry set the bar high as the senior enlisted adviser for the brigade, McAdoo is no stranger to the installation or high operations tempo division, since he started his military journey with the 2nd Battalion, 44th Air Defense Artillery Regiment, here on Fort Campbell.
"I would have never imagined, when I started my career 24 or 25 years ago, at this very same post, I would be lucky to come back here and serve as the sustainment brigade command sergeant major," said McAdoo. "I am truly humbled, honored, [and] excited to be trusted with the responsibility to serve this brigade."
Since serving with the 2nd Bn., 44th ADA Regt. as a young private, McAdoo has served in various position throughout this 25 years in service such as the first sergeant for D Company, 396th Adjutant General Battalion at Fort Jackson, South Carolina, the brigade senior human resource sergeant with the 82nd Airborne Division at Fort Bragg, North Carolina, and most recently the battalion command sergeant major for the Group Support Battalion, 7th Special Forces Group at Eglin Air Force Base, Florida.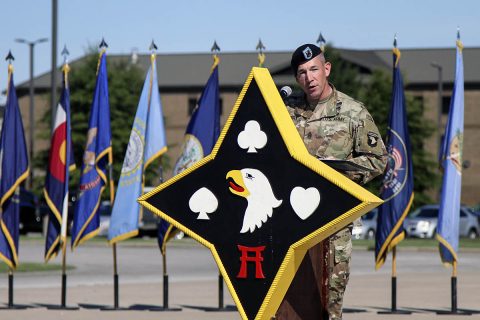 "Command Sgt. Maj. McAdoo, your reputation is impeccable and there is no doubt in my mind that you take the responsibility of these Soldiers with honor, dignity and respect, and ensure we maintain the high standards for a trained, disciplined and ready to fight tonight brigade," said Sliwinski.