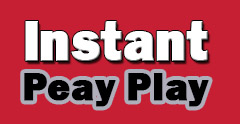 Clarksville, TN – In all of college football, over the first month or so of the season, there would be few if any stories across the country better than what the Austin Peay State University football team has provided in its turnaround.
A team that had lost a nation-long 29 straight games now currently owns a three-game win streak and more importantly a 2-0 mark in the Ohio Valley Conference – which ties them with Eastern Illinois for the top spot in the standings after the first two weeks of conference play.
Now the Govs (3-2, 2-0 OVC) will have their feel-good story put to its biggest test so far, since their opening win, as they host defending OVC champion Jacksonville State this Saturday, October 7th, 2017 at Fortera Stadium.
The Gamecocks enter the contest ranked fifth in the last FCS Coaches Poll, as well as winning their last 25 OVC contests, one short of tying Eastern Kentucky for the conference's all-time consecutive-win mark — after a 34-7 blowout win at Tennessee Tech this past Saturday.
But this year's Govs squad isn't entering the contest like so many of the prior teams have despite Austin Peay having never beaten Jacksonville State (3-1, 1-0 OVC) since joining the OVC and dropped their last 10 meetings by an average of 29 points and none closer than 13 points overall.
The Govs are 6-18-3 all-time versus Jacksonville State, with its last win coming in 1979 in a 21-13 road victory. The last home win for APSU versus the Gamecocks was in 1960 in a 14-8 victory.
But under second-year head coach Will Healy, the Govs are playing an inspired brand of football that has proven over the past couple of weeks that it can win games, it can win on the road and it can win with defense and looking at the stats between the two teams, Saturday's showdown should be a matchup of teams that up to this point have posted similar numbers despite recent history.
Entering the game, the two teams rank first and second in the OVC in scoring with Jacksonville State holding the slimmest 25.5 to 25.4 points per game average advantage, while the Govs hold a 15.4 to 16.8 ppg given up advantage – including giving up only 3.5 points per game in its first two OVC games.
The Govs also hold the advantage in total offense yardage 380.8 to 365.8 and in defensive yards given up 251.8 to 290.2 – with the Govs leading the conference in both categories.
But one intangible that can't be put on a stat sheet is experience winning and Jacksonville State has a big advantage in that category coming in, but don't count the Govs out there either.
Winning is contagious and the Govs seem prepared to prove they are for real now and a contender in the OVC.