APSU Sports Information
Clarksville, TN – Contests against Clemson, Kansas State, Ole Miss and Vanderbilt highlight the 2018 Austin Peay State University baseball schedule, released Friday.
Under head coach Travis Janssen, who enters his third season at Austin Peay, the Governors will face a 56-game slate beginning February 16th against Maryland-Eastern Shore at Raymond C. Hand Park.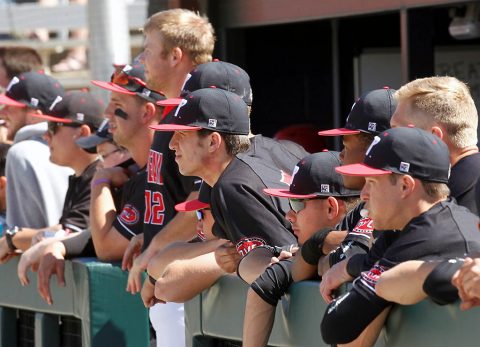 That game kicks off an opening stretch that will see Austin Peay play 11 of its first 12 games in the friendly confines against UMES (February 16th-18th), Southern Illinois (February 20th), Toledo (February 23rd-25th) and Indiana State (March 2nd-4th).
A February 27th contest against Vanderbilt will return an Austin Peay fan-favorite opponent to the schedule and is the lone road trip in Austin Peay's opening three-week stretch. However, it presages a five-game road trip during spring break that will see the Govs travel to Ole Miss (March 6th), Samford (March 7th) and open Ohio Valley Conference play at Jacksonville State (March 9th-11th).
The series at Jacksonville State is the first of five OVC road trips for the Govs in 2018. Austin Peay also will travel to Tennessee Tech (March 23rd-25th), Belmont (April 6th-8th), Morehead State (April 20th-22nd) and SIU Edwardsville (May 4th-6th). The Governors five home conference sets begin with Murray State (March 16th-18th) followed by Southeast Missouri (March 29th-3st), Eastern Kentucky (April 13th-15th), UT Martin (April 27th-29th) and a regular-season ending set against Eastern Illinois (May 17th-19th).
A March 20th-21st series at Kansas State, Janssen's alma mater, will see the Govs travel to Kansas for the first time since 1991. Austin Peay also will face Clemson during its off week in OVC play, May 11th-13th. It will be the first meeting between the Govs and Tigers since 1973.
Austin Peay also will continue annual midweek series against Middle Tennessee, Lipscomb and Western Kentucky during the upcoming season. The Blue Raiders (March 13th), Hilltoppers (May 1st) and Lipscomb (May 8th) each visit Raymond C. Hand Park after the start of OVC play – each a part of the Govs 30-game home slate.
The Governors 2018 roster will see 16 newcomers join a group of 20 returnees from last season's team that qualified for the OVC Baseball Championship. Five starting position players return from that team, including redshirt sophomore Parker Phillips who posted 12 home runs and 40 RBI in his first season as a Governor. On the mound, the Govs return two starters who saw action in the OVC Baseball Championship – Jacques Pucheu and John Sparks – as well as three other pitchers who made five or more starts during the regular season.
Austin Peay 2018 Schedule