Clarksville, TN – Clarksville Police investigated a reported Aggravated Assault at the 408 Tiny Town Road Wal-Mart Neighborhood Market on October 12th, 2017 but the suspect has not yet been identified.
The suspect, described as a white male in a black hoodie and tan pants, allegedly displayed a pistol after he was caught shoplifting some frozen food items.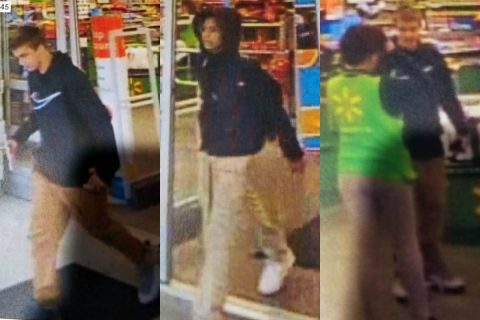 Anyone with information about this incident is asked to call Detective Cory Coleman, 931.648.0656, ext 5589 or the TIPSLINE 931.645.8477 or go online and submit a tip anonymously at P3tips.com/591
Anyone who recognizes the suspect or the other man believed to have been with him is also asked to contact police. The individual actually wearing the hood on his head is believed to have been a companion. The other two photos of the white male with the visible white 'Nike Swoop' on his chest are photos of the suspect.