APSU Sports Information

Clarksville, TN – On Homecoming 2017, Austin Peay State University football fans are going to party like it's 2008.
That was the last time the Governors won a Homecoming contest. Heavy emphasis on the "was" part of that phrase, as the Governors vanquished Southeast Missouri, 38-31, at Fortera Stadium, with a quick-strike offense that seemingly had the Redhawks number all night.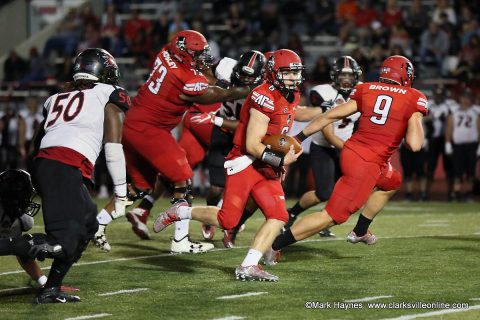 Although the offensive outburst was sudden, it was not immediate even after a spectacular special teams play gave the Govs good starting field position on their opening drive.
After a Southeast Missouri drive stalled, Daryl Rollins-Davis steamrolled through the Redhawks punt coverage, blocking Jake Reynolds' punt attempt and recovering it at the 16-yard line.
Unfortunately for the Govs, that stroke of good fortune would not pay off, as the offense went three-and-out and the ensuing 31-yard field goal attempt sailed wide left.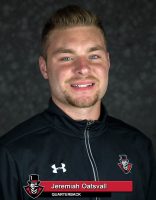 The ensuing Southeast Missouri drive saw the Redhawks go three-and-out, and this time Austin Peay capitalized. On the second play from scrimmage, Rollins-Davis got behind the Southeast Missouri secondary and raced under a perfectly-thrown ball from freshman quarterback Jeremiah Oatsvall—making his first collegiate start—for a 52-yard touchdown reception to get the Govs on the board.
Rollins-Davis' catch was Austin Peay's first 50-yard play from scrimmage this season which did not involve Kentel Williams, but the sophomore from Knoxville soon got in on the action. After Southeast Missouri evened the score with an 11-play, 69-yard touchdown drive capped by a Jesse Hosket touchdown dive, Williams burst through a huge hole at the line of scrimmage and scampered basically untouched, 74 yards, for a touchdown.
The Governors first two scores came on the second play of each drive; their third score required a tougher slog. Early in the second quarter, the Govs embarked on a 10-play, 63-yard drive, chewing up 5:23. A 35-yard Oatsvall-to-Ahmaad Tanner connection got the drive started, while Oatsvall eluded pressure to hit freshman tight end Elijah Brown for six yards on fourth-and-two to keep the drive going. On third-and-goal from the 10, Oatsvall found DJ Montgomery to put the Govs up 21-7.
The teams traded scoreless possessions for much of the second quarter's remainder, but Williams wasn't done yet. The Governors began their final first-half possession with 1:22 remaining, ending it 45 seconds later after Tanner punched it in from the one-yard line for his season's third score—thanks to a huge 56-yard burst from Williams on the first play from scrimmage. That took the Governors into halftime with a 28-7 advantage.
Austin Peay embarked on another 10-play march to start the third quarter. Oatsvall made things happen through the air—hitting Williams for 19 yards on third-and-nine, Gorel Soumare for 25 yards on third-and-11 and Kyran Moore for 20 yards on third-and-10 to keep the drive alive—before finishing the drive with his feet, dashing 16 yards for his season's third rushing score.
For the evening, it was the Oatsvall and Williams Show on offense. Williams needed just nine touches to rack up 167 yards total offense, picking up 148 on the ground and another 19 receiving, while Oatsvall—in addition to becoming the first APSU quarterback since Jake Ryan (2009) to win his first career start—finished 13-for-22 with 199 yards and two touchdowns while adding 66 more on 13 carries on the ground.
Southeast Missouri began to push back after the Govs pushed the lead to 35-7, quickly striking back with an eight-play, 61-yard scoring drive (Hosket to Zack Smith for a 34-yard touchdown). Hosket would throw for 246 of his 348 yards in the second half as the Redhawks attempted to mount a furious rally, including two late touchdown passes to Eric Williams (16 yards) and Richie Eisenhart (29). The Govs recovered two onside kicks over the final 2:10 to stave off any hopes the Redhawks harbored for a comeback.
Next Up for APSU Football
And now, what was scheduled to be an off-week for the Governors will begin one of the season's biggest travel weeks as the Govs picked up a contest against FBS No. 17 UCF in Orlando, Florida. Kickoff is slated for 4:00pm (CT) start from Spectrum Stadium.
Game Photos
Tailgating Photos